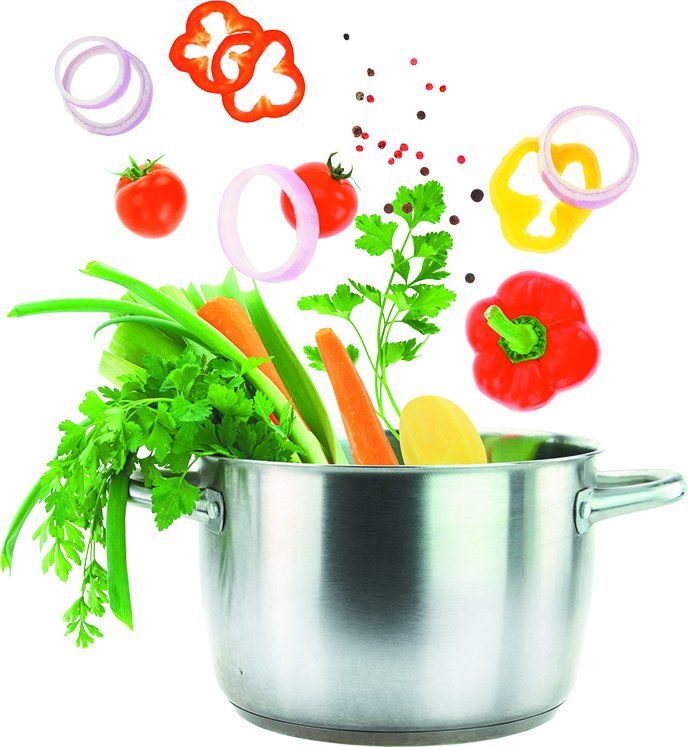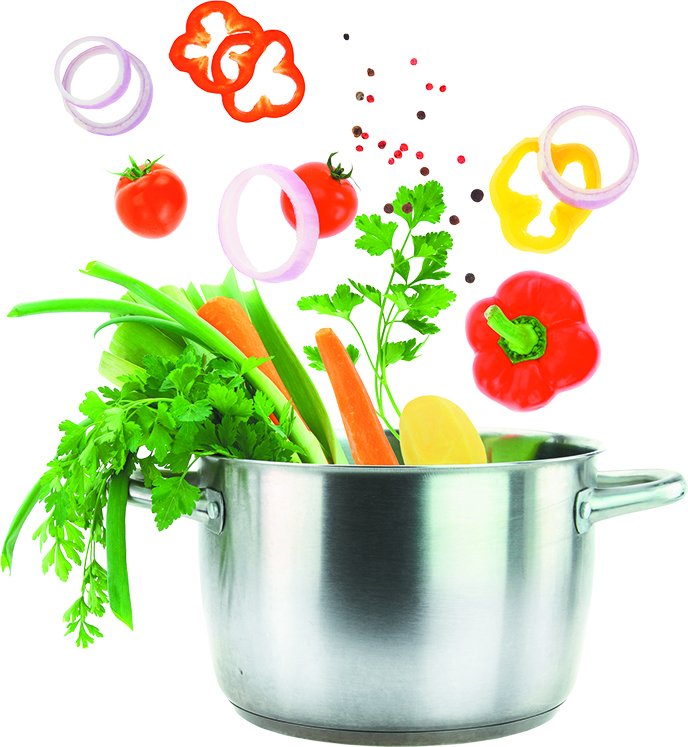 Many people are pressed for time (and sometimes energy) when it comes to putting dinner on the table. But, sometimes we make it harder than it needs to be. You'll be ready to whip up a quick meal any day of the week if you stock your kitchen with minimally-prepped, nutritious ingredients (think: frozen vegetables, precooked brown rice and frozen fish fillets) and simple ideas for quick-fix dishes.
"You can control your food costs, pick healthier ingredients and feel a lot better about what you're putting in your body when you cook at home," says Helen Rasmussen, PhD, RD, a senior research dietitian and manager of dietary services at Tufts' HNRCA. "According to the USDA Economic Research Service, nearly a third of the US food dollar is spent on eating out services." If you've fallen into a rut of eating out multiple nights a week and grabbing fast-food meals on the go, it's time to rethink your habits. The time you spend traveling to and from a restaurant and waiting for someone else to make your food could be better spent in your kitchen.
"Think about quick, healthy meals you have in your repertoire and their common elements," says Alice H. Lichtenstein, ScD, Gershoff Professor of Nutrition Science and Policy at Tufts' Friedman School. "Healthful ingredients, such as lean proteins and non-starchy vegetables, can be used to make different dishes. Vary the preparation methods (such as grilling or stir-frying) and the flavorings you add, such as Mexican one night and Asian another night." Here are some ideas to help get your creative culinary juices flowing using basic meal components of lean proteins, whole grains and vegetables.
Put a New Spin on Proteins:
It's easy to get bored with healthful proteins like chicken breasts, fish and legumes (beans) if you prepare them the same way every time. Fortunately, there are many quick and easy ways to use them in meals.
Quick chicken breasts. Boneless, skinless chicken breasts are fuss-free and super-versatile. The fastest way to cook them is stir-frying (since they're cut in small pieces), which lends itself to many variations. For starters, try the stir-fry recipe.
Seafood in a flash: If you stock your freezer with frozen fish fillets, such as salmon and cod, and other seafood like shrimp and scallops, you'll have nutritious proteins on hand for any dish. Follow package instructions for thawing, which is generally quick. If you think of it, you can move frozen fish fillets from the freezer to your refrigerator in the morning, and they'll generally be thawed and ready to cook for your evening meal. For food safety reasons, remove fish from vacuum-sealed packages before thawing.
You may be used to eating fish as a single fillet. But, try cutting it into bite-size pieces (before or after cooking, as appropriate) to use in dishes like tacos and stir-fries or atop salads.
Plant proteins: Think about using plant proteins in quick dishes where you'd typically use meat. For example, instead of using ground meat in spaghetti sauce, use sauted, extra-firm, crumbled tofu. Or, fill a taco with warmed black beans or lentils.
Lentils are one of the quickest legumes to cook from dried. Common brown lentils (which hold their shape better than red) take about 40 minutes to cook. Cook them as needed or in advance as your schedule allows. "Cook the lentils until they're al dente or just done, drain them, rinse them with cold water and then put them in recipe-ready portions to pull out of the fridge [or freezer] as you need them," says chef Jim Warner, nutrition services program director at The Ohio State University Wexner Medical Center. Cooked lentils will last about four days in your refrigerator and a few months in the freezer. Warner suggests adding cooked lentils to stir-fries. They also are a great addition to stew and soup.
Frozen, shelled edamame (immature green soybeans) can be thawed and sprinkled as-is on salad, added to wraps or used in vegetarian stir-fries to boost the protein content, texture and flavor.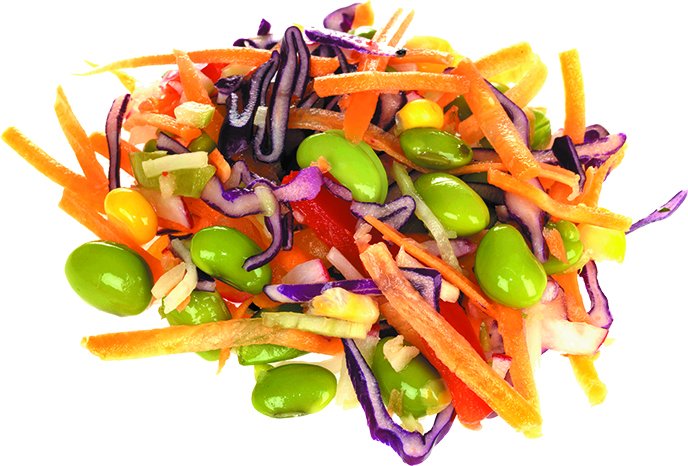 Build on Whole Grains:
Whole-grain pasta, tortillas, pita bread and intact, minimally-processed whole grains—like brown rice, quinoa and barley – are like a blank slate around which you can build many different meals. Quinoa cooks in about 15 minutes, so it's a great option when you're in a hurry for whole grains. Other intact whole grains generally take 30 to 60 minutes to cook, depending on the variety. But, if you make a larger batch, you'll have enough for a few nights' meals. Rasmussen suggests freezing cooked, intact whole grains in recipe-ready portions, which can be reheated in the microwave.
Whole-grain bowls. Start with cooked, intact whole grains and layer with vegetables, a serving of protein and toppings of your choice, then drizzle with your favorite sauce. For example, make a burrito bowl with brown rice or quinoa, black beans, cooked chicken breast (chopped or shredded), frozen (thawed) corn, chopped avocado, diced tomato, shredded lettuce, salsa and a southwest-flavored salad dressing. Whole-grain bowls also are a great way to use up leftovers.
Put a new spin on pasta. If you typically just add a tomato-based sauce to spaghetti, try cooking some frozen or fresh vegetables in the sauce. Consider asparagus, spinach, kale, zucchini, broccoli and others. Try adding different proteins to pasta dishes, too, such as chopped chicken breast, tuna, shrimp or pan-seared (browned) scallops.
Wrap it, fill it or top it. Whole-grain tortillas (or flatbreads), pitas and ready-to-top pizza crusts make it simple to make some of your favorite dishes healthier. Whole-grain tortillas can be used for soft tacos, wraps and pizza "crust." For pizza, heat the tortilla for 2 to 3 minutes in a 375 degree F oven. Then top with pizza sauce, part-skim shredded mozzarella cheese, diced bell peppers, quartered cherry tomatoes and chopped fresh basil. Bake 4 minutes or until cheese melts.
If you prefer a more traditional pizza crust, start with a pre-baked, 100% whole-wheat pizza crust from the supermarket. Top the crust as desired, then bake at 450 degrees F (or as directed on the crust package) for 8 to 12 minutes or until the crust starts to brown and the toppings are heated. For example, try a quick Greek pizza: Saut minced garlic and diced red onions in olive oil, then add baby spinach for a few minutes to wilt. Spread the spinach mixture on the crust, top it with quartered, canned artichoke hearts and reduced-fat, crumbled feta cheese, then bake.
Sandwiches are fast but may sometimes seem a little ho-hum. Whole-wheat pitas are a nice change of pace in place of sliced bread. And, pitas are perfect for sandwich fillings that are a little messier to eat. Consider stuffing half of a whole-wheat pita with egg salad, chicken salad or tuna salad, crisp romaine lettuce, shredded carrots, tomatoes and/or any other vegetables you enjoy. Or, fill half of a pita with low-fat cottage cheese, cucumber slices and a bit of dried dill weed.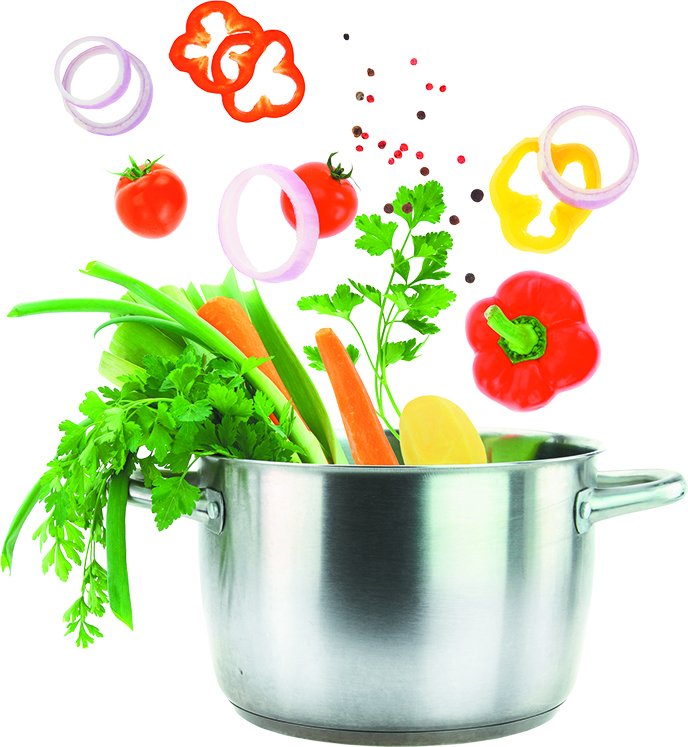 Fast and Flavorful Veggies:
We asked chefs to share their favorite quick and tasty ways to prepare vegetables.
Roast them. "If you roast vegetables, it concentrates the sugars naturally in the vegetables, so they caramelize and sweeten," says Cyndie Story, PhD, RDN, a certified chef and culinary consultant in Scottsville, Kentucky. "People typically like the crunch of roasted vegetables, too."
To roast vegetables, Story advises cutting them into uniform pieces (so they cook evenly), then toss them in olive oil and spices (such as oregano, cayenne pepper, parsley or garlic powder) for flavor, and spread them on a sheet pan. Bake in a 350-400 degree F oven until tender. She uses the lower end of the temperature range when it will take longer (like 30-35 minutes) for the vegetables to soften, such as sweet potato wedges. But for vegetables that cook quickly, such as kale chips that may take 5-8 minutes, she bakes them at 400 degrees F.
Add citrus. "Citrus goes a long way in seasoning vegetables," says TJ Delle Donne, a certified executive chef and assistant dean of culinary relations and special projects at Johnson & Wales University in Providence, Rhode Island. "After cooking, drizzle vegetables with a little bit of lemon juice and olive oil to make their flavor pop. Or, sprinkle them with the zest of the lemon or orange." To zest citrus fruit, just run the fruit's outer peel over the fine holes of a cheese grater or citrus zester. Avoid the white membrane underneath the peel, which has a bitter taste.
Deglaze the pan. After you've sauted vegetables, Delle Donne recommends deglazing the pan to make a sauce for the vegetables. To do that, remove the cooked vegetables from the pan and add a liquid, such as low-sodium vegetable stock or citrus juice (such as lemon, lime or orange juice), to the pan. For extra flavor, you can add minced garlic or shallots.
Simmer the deglazing liquid and stir with a wooden spoon (to release the flavorful, caramelized bits stuck to the pan) for a few minutes over medium to medium-high heat until the liquid is thickened and reduced by about half. Pour the resulting sauce over the cooked vegetables. (The same deglazing process can be used with other pan-cooked foods, like fish or chicken, too.)
You Can Do It:
"Just be fearless with food," Warner says. "I think a lot of people have really lost touch with food and how to cook. But, once people start cooking at home and trying new dishes, they kind of get hooked on it. It becomes part of their routine." Also realize that the more you do something, the faster and more efficient you tend to become. The same is true of cooking.
Q&A: Home-Delivered Meal Kits: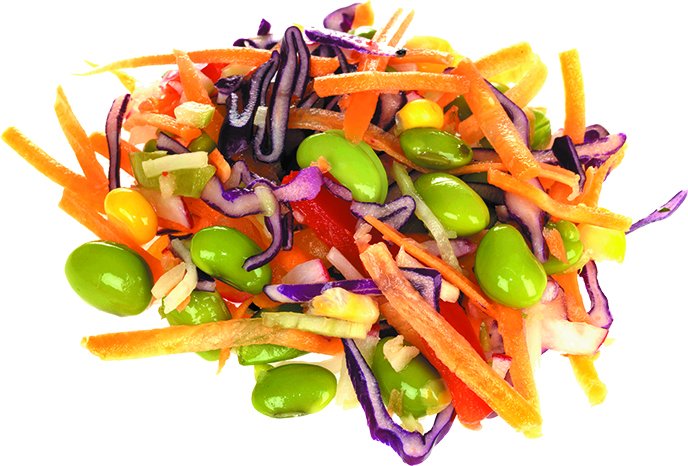 If you wish someone would deliver everything you need to make dinner directly to your door, you may have considered a meal kit service. Not only may they help save time and encourage you to cook nutritious foods from scratch, but they also may increase your comfort level with cooking and help you expand your skills. However, they may be better used as a temporary solution rather than a permanent one.
Q: What's involved?
A: You select meals from picture menus on a meal-kit company's website, and the meal kits are delivered weekly. The kits include step-by-step recipes and premeasured ingredients to help you cook from scratch. You may have to supply a few staples like cooking oil or vegetable spread. Many recipes can be cooked in 30 minutes or less, but some take longer. Recipe options change frequently, such as weekly, and often use seasonal ingredients.
Q: What about special diets and nutritional content?
A: Some companies offer options for special diets (such as vegetarian or gluten-free) or kid-friendly meals. Check for complete ingredient and nutrition information for each meal before you order. Beware that some recipes may be high in calories, sodium or other items you're trying to limit.
Q: How much do meal kits cost?
A: Meals generally range about $9 to $12 per person (which generally includes shipping costs, but this can vary). So, meals from kits tend to be more expensive than if you had gathered the ingredients yourself.
Both 2-person and 4-person plans are typically available. The number of meals you can select per week generally ranges from two to five, and payment is weekly. Subscriptions typically auto-renew each week until you cancel.
Q: Does food arrive safe?
A: Food is typically shipped in insulated containers with freezer packs. But, preliminary research presented at the 2017 Food Safety Summit suggests the meal kits may have food safety issues in some cases. Items such as meat or poultry may thaw, and their surface temperatures may rise above 40 degrees F, putting them in the food safety danger zone.
The FDA is studying the issue but hasn't released any formal guidance. If possible, try to schedule deliveries for a day when someone will be home to quickly unpack and refrigerate the food.
Q: Are the kits bad for the environment?
A: On the plus side, the kits may help reduce food waste, at least on your end, since you get precisely the ingredient amounts you need. On the other hand, consider the environmental impact of the fuel burned for shipping and all of the special packaging, some of which is not recyclable (like the gel in the standard freezer packs). The individual plastic bags for each ingredient may only be accepted at certain recycling centers (many of which are located in stores with recycling bins for plastic bags). Learn more at <plasticfilmrecycling.org>. Meal kit companies often have details about recycling on their websites, too.
Q: What do chefs think of meal kits?
A: "Meal kits are a convenient product for people who don't have time to plan meals and shop for ingredients," says certified executive chef TJ Delle Donne at Johnson & Wales University in Providence, Rhode Island. "And, the meal kits are chef driven, so you usually get a superior product and a fun recipe. But, if you can find time on the weekend, you could make these kinds of meal prep kits yourself."
TIME SAVING TOOL: MULTI-COOKER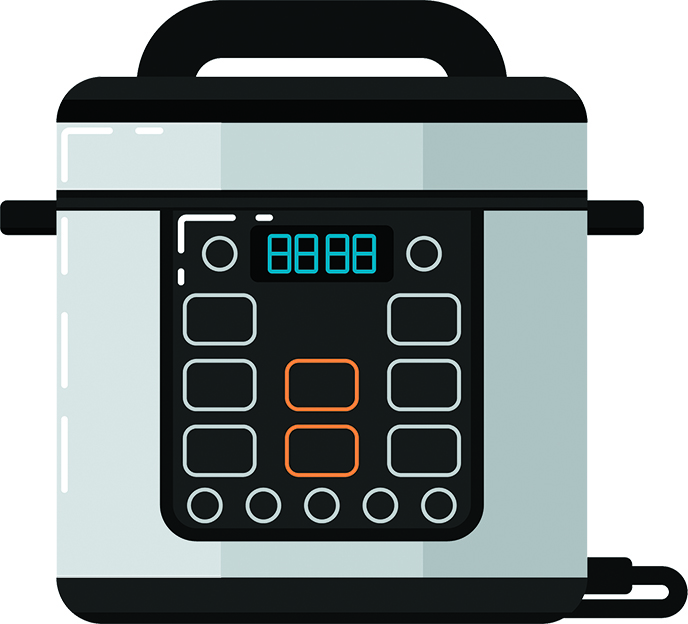 These are similar to a slow cooker but are more high-tech and versatile. For example, you can program multi-cookers to automatically switch from a cooking temperature to a holding temperature after the food is cooked (based on your past experience of cooking the item), so you don't end up with overcooked food when you're away from your house.
— Chef Cyndie Story, PhD, RDN, a Kentucky-based culinary consultant