Would you like to permanently reduce time spent shopping and preparing food, while improving your diet and health? The step-by-step guide that follows will streamline your interactions with food, help take the stress out of healthy eating, and put a system in place that will pay health benefits for years to come.
Step 1: ASSESS
The first step in improving your buying and eating habits is to take a look at what you are doing now. Inventory your cabinets, refrigerator, and freezer and make a note of what you currently have on hand. An inventory list will give you a better idea of what items are availble for preparing meals and what you need to buy. It will also allow you to take the 'nutritional temperature' of your food habits, according to Alice H. Lichtenstein, DSc, director of the Cardiovascular Nutrition Laboratory and executive editor of Tufts Health & Nutrition Letter. "Consider whether the items in your home are consistent with a healthy dietary pattern," says Lichtenstein. "Do you have fruits and vegetables in the refrigerator and freezer? Are there nuts, seeds, beans, and whole grain products in your pantry? Do you have lean and plant protein sources (like seafood, poultry, and legumes) available for meals?" Note which foods and beverages are high in sodium, refined carbs, added sugars, and/or animal fats. As you use these items up, try to replace them with healthier options.
Step 2: PLAN
Planning ahead is the key to saving time and money and minimizing food waste. Once every week (or two), make a rough meal plan. Taking the time to decide on a week's worth of meals takes the stress out of daily decision making, cuts down on last-minute unhealthy choices, and ensures you will have all necessary foods and beverages on hand. Creating a list of favorite meals and collecting recipes to try can be helpful. (See "Resources" for links to sites that offer healthy menu and recipe ideas.) Follow these steps when creating your meal plan:
Determine what ingredients are in the house already, and what foods must be used before they spoil.
Think about the household's schedule for the week. Who will be in the home for which meals? What days will you be ordering takeout? When will you next be shopping or receiving a grocery or prepared-meal order?
Plan for leftovers. Extra salmon cooked tonight can be salmon over greens or salmon croquettes a day or so later.
To maximize the consumption of plant foods (and stretch food stocks to limit shopping trips), Judith C. Thalheimer, RD, LDN, managing editor of Tufts Health & Nutrition Letter plans vegetarian meals every other night. "There have been times when meat and poultry were hard to come by in our local markets," says Thalheimer. "Building a repertoire of vegetarian options we all enjoy has been very helpful—and very healthful! Black bean burgers are a big hit, as are Indian lentil dishes and easy grain and bean bowls made with Asian- or Mediterranean-inspired flavors. And they all feature non-perishable pantry items."
Step 3: SHOP SMART
Once you have a meal plan, you are ready to build a shopping list or food order:
Make a list of foods and ingredients needed for planned meals and snacks.
Add any staples that are low in the inventory. Be sure to focus on healthy items and avoid less healthy items (see "Smart Shopping Swaps").
Take the opportunity to stock up on non-perishable food items like dried or canned beans and lentils; canned fish; whole wheat or bean-based pastas; and nut butters. Stock the freezer with frozen vegetables, fruits, seafood, and poultry.
Plan for shortages and be flexible. Have go-to alternate options in mind in case an ingredient is unavailable one particular week.
Include healthy snacks like fruit, unsalted nuts and seeds, and cut up veggies.
However you shop, limit your purchase of highly processed convenience foods. Frozen entrees and bagged snacks are tempting time-savers; they are also quite often high in sodium, refined grains, added sugars, and unhealthy fats that can damage your health and don't support a healthy immune system.
Step 4: COOK SMART
Preparing food at home is the best way to control the quality of your diet. It may not be effortless, but it doesn't have to be complicated or overly time-consuming. Start with simple, less-processed ingredients; include plenty of vegetables; choose seafood and skinless poultry with limited lean red meats for protein, and pick plant proteins like beans and lentils more often; choose whole grain foods over refined; add nuts/seeds instead of salad toppers like croutons or bacon bits; using plant oils instead of butter or animal fats, and herbs and spices instead of salt; getting sweet taste from whole fruits instead of cookies, cakes, or sugar-sweetened beverages; and keeping portion sizes moderate to control total calorie intake.
To make daily cooking easier:
Choose simple recipes to cut meal prep time, and one pot meals (like stir-fries and casseroles) to minimize cleanup
When chopping vegetables, chop
extra and refrigerate or freeze for the next recipe
Take advantage of frozen, pre-washed, and pre-chopped vegetables
Cook more than you need and use leftovers for breakfasts or lunches, or freeze portions for future "heat and eat" meals
Batch cook on weekends or days off to have meals for the coming week or quick-fix meals when plans change
People who have preconditions like high blood pressure, diabetes, and obesity are more at risk for death from heart attacks, strokes, and COVID-19. With a bit of upfront effort and some planning, we can all take steps toward nourishing our bodies, and those of our loved ones, for better health.
Healthy Meal Delivery
When ordering from meal-delivery services that provide heat-and-eat or easy-to-prepare boxed meals, look for companies that use plenty of whole, unprocessed ingredients (like vegetables and whole grains), offer low sodium options, and avoid or minimize added sugars.
Check the nutrient facts. Choose options rich in potassium, magnesium, and calcium without excess sodium and sugar.
Mix it up. Try different meals. A variety of foods ensures a variety of nutrients, which is the best way to nourish your body.
Factor in packaging. Seek out the most environmentally friendly options, and reuse or recycle as much as you can.
Order out locally. This approach helps local businesses and minimizes shipping costs and excess packaging.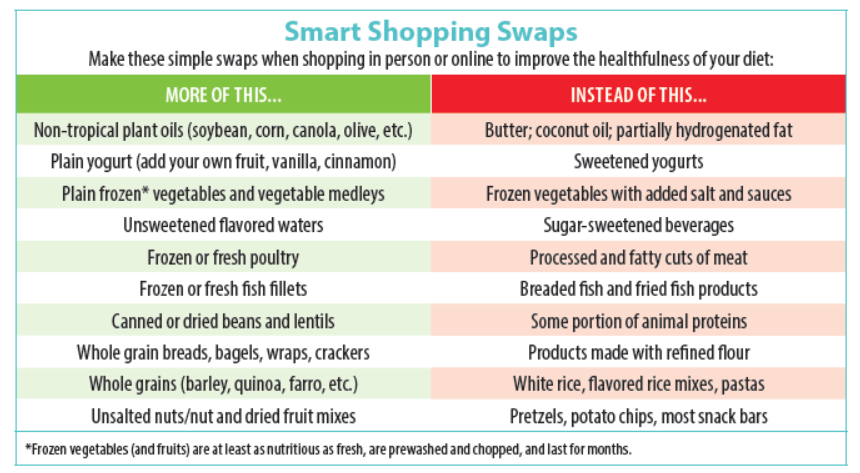 Resources

The COVID-19 pandemic has changed the way we procure, prepare, and consume food. As a nation, we are eating out less, preparing more food at home, shopping less frequently, and, for some, selecting foods and beverages for purchase virtually. Many of us are also watching our food budgets more closely. As challenging as these times are, they present a chance to improve our home food and beverage environment and change household dietary habits for the better.
Now that many of us are eating at home more often, we can take the opportunity to restock the pantry to make the healthy option the default option. Less frequent trips to the store and ordering online require us to plan ahead, so we can think more carefully about what we select. Less eating out and more cooking at home gives us greater control over things like preparation method, food combinations or relative proportions, sodium and added sugar content, and portion size. Additionally, the desire to make fewer trips to the supermarket creates opportunities to minimize waste, which is good for the planet and the pocketbook. We may even be increasing our creativity and flexibility and discovering new options as we adapt to the fact that our desired or habitual items are not always available.
Taking the time to survey, plan, restock, and create some new habits will foster a new and healthier food environment in your household—now and going forward. This month's special report offers a step-by-step, concrete plan for changes that will pay long-term dividends. Let's take the opportunity to harness the changes necessitated by the COVID-19 pandemic to make lasting improvements in our diets.
To Your Good Health,
Alice H. Lichtenstein, DSC