Americans consume 17 teaspoons of added sugars a day on average (more than one-third cup). That's not to say we scoop that much into our coffee or tea. Sugar, in one form or another, is added to a huge variety of processed foods, from sweet drinks to cakes, cookies, candy, ice cream, and even breads, yogurt, and seemingly savory condiments and sauces such as ketchup and tomato sauce. Sugars and high added-sugar foods are not healthful choices, and switching sweeteners (say, from high fructose corn syrup to raw cane sugar) is not the answer.
What is Sugar?: When people say "sugar," they are generally thinking of the white crystals one would find in a sugar bowl, a product typically refined from sugar cane or sugar beets. Technically, the word "sugar" has a different meaning: a sweet-tasting, soluble carbohydrate. There are three "simple" sugars (monosaccharides) in nature, glucose, fructose, and galactose. Every caloric sweetener in the natural world is formed from some combination of these three building blocks (most often glucose and fructose). Simple sugars are treated the same by our bodies whether we ingest them as sucrose (like table sugar) or as high fructose corn syrup. "There is no evidence of any difference in health impact between the major sugars in the U.S. food supply," says Dariush Mozaffarian, MD, DrPH, dean of Tufts' Friedman School of Nutrition Science and Policy and editor-in-chief of Tufts Health & Nutrition Letter. "Refined sugars like cane sugar, beet sugar, and high fructose corn syrup are all metabolically equivalent. Whether or not honey or maple syrup have different health effects needs more study."
Fruits and vegetables have intrinsic sugars naturally contained within their cell walls, along with nourishing vitamins, minerals, and phytochemicals. They also have fiber that slows the release of sugars into the bloodstream and tends to limit how much one can consume at one sitting. "The health effects of sugar depend more on the dose and speed of ingestion and less on the source and type," says Mozaffarian, "Our bodies evolved to metabolize small amounts of slowly digested sugars, such as those in a piece of fruit. When we consume added sugars, we are often getting a high dose of rapidly digested refined sugar." This is the case even for so-called "natural" sugars. "There tends to be a misconception that if the sugar is isolated from a 'natural' source it does not count," says Alice H. Lichtenstein, DSc, senior scientist at Tufts' Human Nutrition Research Center on Aging and executive editor of Tufts Health & Nutrition Letter. "That simply is not the case. Added sugar is added sugar, even if it comes in the form of concentrated organic fruit juice. There is no getting around that fact."
---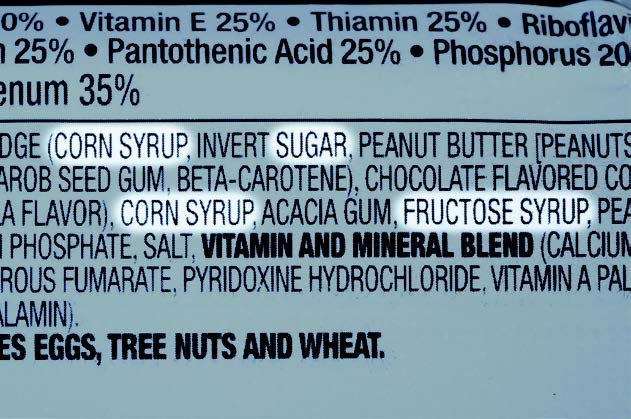 SUGAR BY ANY OTHER NAME …
Added sugars appear on ingredient lists by many names, but the body metabolizes them all in essentially the same way. On Nutrition Facts label ingredient lists, added sugars include the following:
any ingredient with the word "sugar," such as white granulated sugar, coconut sugar, brown sugar, beet sugar, raw sugar, or sugar cane juice
any ingredient with the word "nectar," such as agave nectar, peach nectar, or fruit nectar
any ingredient with the word "syrup," such as corn syrup, high fructose corn syrup, carob syrup, maple syrup, brown rice syrup, or malt syrup
any ingredient containing a word ending in "-ose

," including sucrose, dextrose, glucose, fructose, maltose, lactose, galactose, saccharose, and mannose

cane juice/evaporated cane juice/cane juice crystals
caramel
corn sweetener/evaporated corn sweetener
fruit juice/fruit juice concentrate
honey
molasses
muscovado
panela (raspadora

)

sweet sorghum
treacle
---
Health Impact of Added Sugars: Studies indicate that added sugars are associated with a number of adverse health concerns. "Natural sugars in fruits, vegetables, dairy, and grains are not associated with negative health outcomes," says Lichtenstein, "but sugars that are removed from these natural sources, concentrated, and added to beverages and foods in processing are." Sugary drinks and foods contribute directly to dental caries (cavities), and the caloric nature of many sweet treats may lead to weight gain. Being overweight or obese is, in itself, a risk factor for a number of chronic health conditions, including cardiovascular disease, type 2 diabetes and some cancers, but intake of added sugars may impact health even when weight is in the so-called "normal" range. "There is strong evidence that added sugar intake is a risk factor for type 2 diabetes," says Lichtenstein. Strong evidence also indicates higher intake of added sugars is associated with increased cardiovascular disease risk in children and moderate evidence indicates an association with increased risk of high blood pressure, stroke, and coronary heart disease in adults. In a 2014 study in JAMA Internal Medicine, people who consumed more added sugars had a much higher risk of death from cardiovascular disease (CVD). Subjects who consumed ten percent to 25 percent of their calories from added sugars were 30 percent more likely to die from CVD than those for whom added sugars contributed less than ten percent of calories.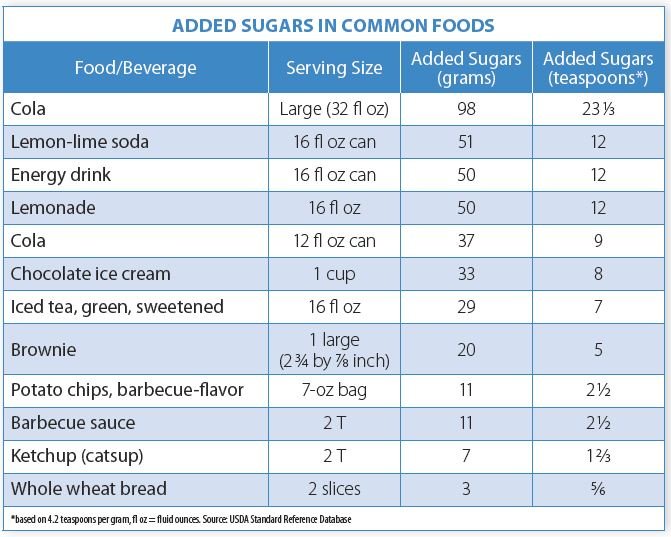 The Whole Package: High intake of added sugars is also associated with poorer diet quality. This means that people who eat a lot of foods with added sugars could be missing out on important, necessary, and health-promoting nutrients. Data indicate that it is not just the added sugars themselves (or the calories they add to our diets) that lead to health problems, it is also what we are not eating when we eat sweets and treats. A Finnish study published in the Journal of Nutrition Science in 2017 found that high added sugar intake (from foods like sugar-sweetened beverages, sugars and syrups, sweet bakery products, chocolate, and other sweets) was associated with low intake of fiber, lower fruit and vegetable consumption, and higher wheat consumption (likely from refined wheat products, rather than whole wheat). Those who consumed the most naturally occurring sugar had higher intake of fiber and fruits and vegetables (and they were also more likely to be physically active and less likely to smoke). "These findings reinforce the importance of evaluating a whole diet and not just individual components," says Lichtenstein. "What we don't eat can be as important as what we do eat."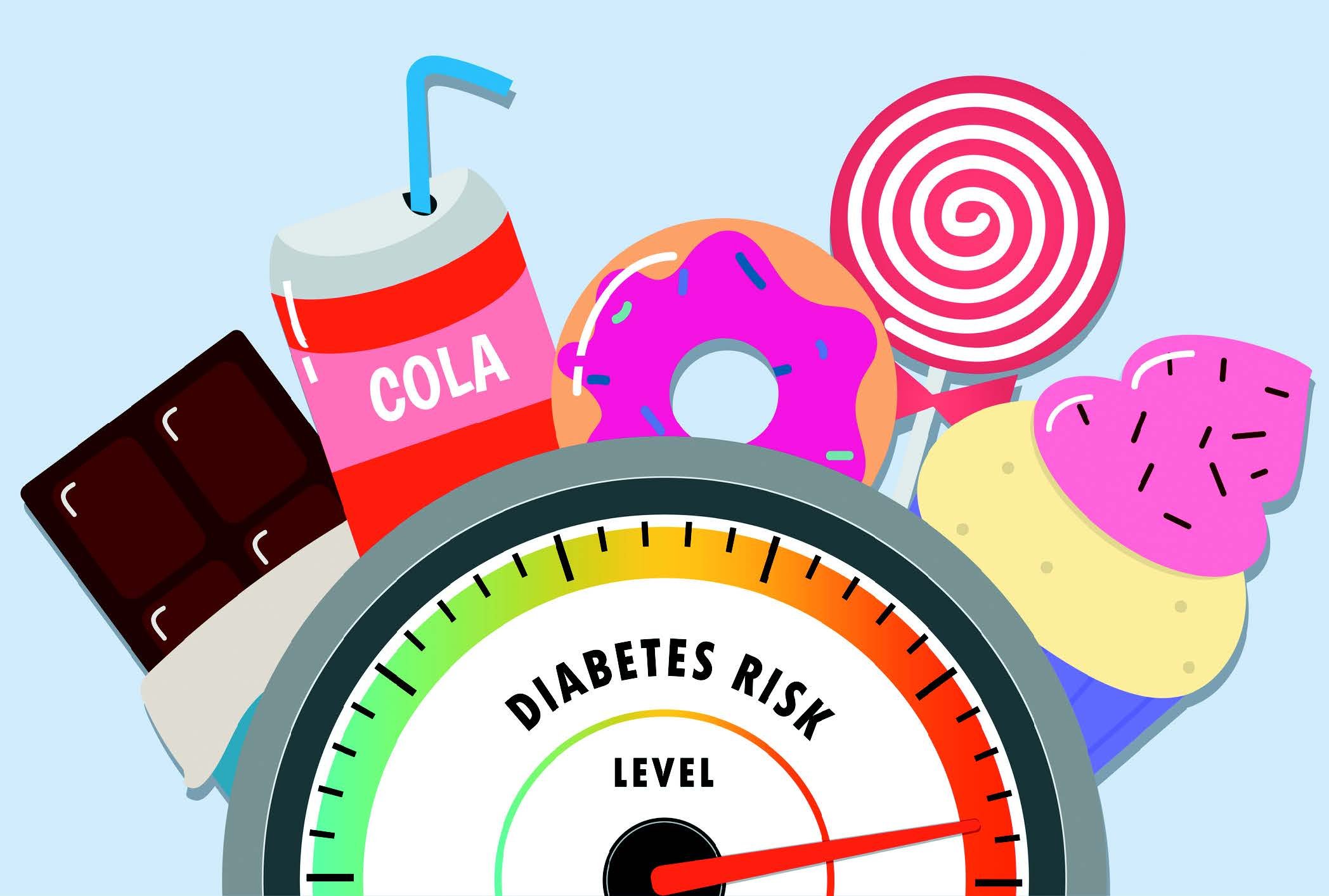 Recommendations: If we consume too much added sugar, it is difficult to meet our nutrient needs without exceeding our calorie needs. For this reason, the Dietary Guidelines for Americans (DGA) recommend limiting calories from added sugars to less than 10 percent of total daily calorie intake. For someone consuming a 2,000-calorie diet, this would mean less than about 12 teaspoons (50 grams) of added sugars a day. People who require less calories should aim for even lower added sugar intake. "Keep in mind this is a maximum, not something to aim for," says Lichtenstein.
According to the USDA's analysis of the most recent national survey data, only 44 percent of adults and 33 percent of children kept their added sugar intake below the DGA recommended maximum ten percent of calories in 2013-2014. On average, those who reported eating a diet in which added sugars exceeded this guideline consumed over 25 teaspoons a day.
Given the evidence associating higher intake of added sugars with heart disease, the American Heart Association (AHA) has issued recommendations that are more stringent than the DGA recommendations. The AHA suggests women and children get no more than 6 teaspoons (around 25 grams) of added sugars per day, and men no more than 9 teaspoons (around 38 grams) per day.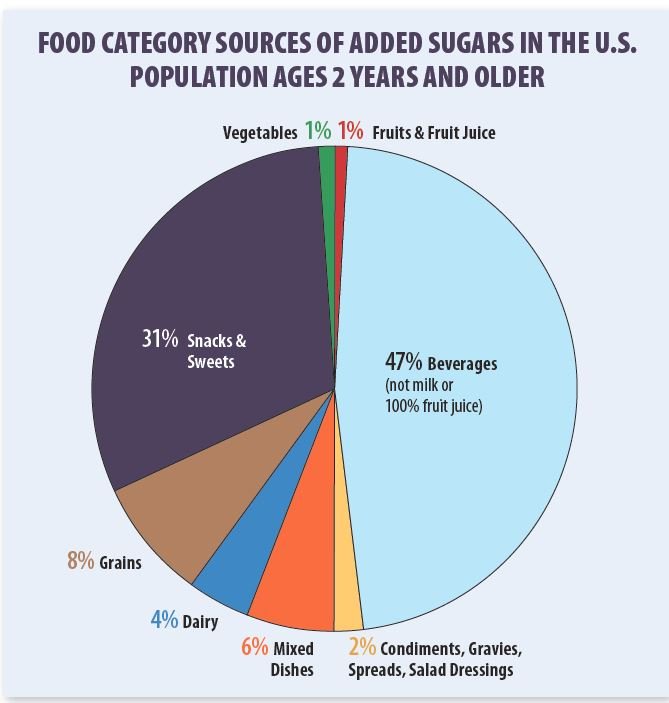 Sources of Added Sugars: Over 30 percent of added sugars in the American diet come from snacks and sweets (and ready-to-eat cereals are a significant contributor, especially in children) but nearly half of all added sugars in the American diet come from beverages. These include soft drinks (soda/pop), but also sweetened tea and coffee drinks, sports and energy drinks, and fruit drinks (which by definition contain added sugars). The DGA does not include sugars found naturally in 100 percent fruit juice in this category, although these beverages, too, are associated with weight gain. The World Health Organization includes the "free sugars" in 100 percent fruit juice in their recommendation to limit sugar intake.
According to a 2018 analysis published in the journal Nutrients, soft drinks were the main sugar-sweetened beverages (SSB) for adolescents, teens, and adults, but sweetened fruit drinks were the key contributor for children. Sports and energy drinks were increasingly prevalent in the nine and up age groups, but especially for nine- to 18-year-olds. Research has linked high intake of SSBs with poor dental health, weight gain, type 2 diabetes, heart disease, and metabolic syndrome (a cluster of symptoms associated with increased risk for cardiovascular disease and type 2 diabetes).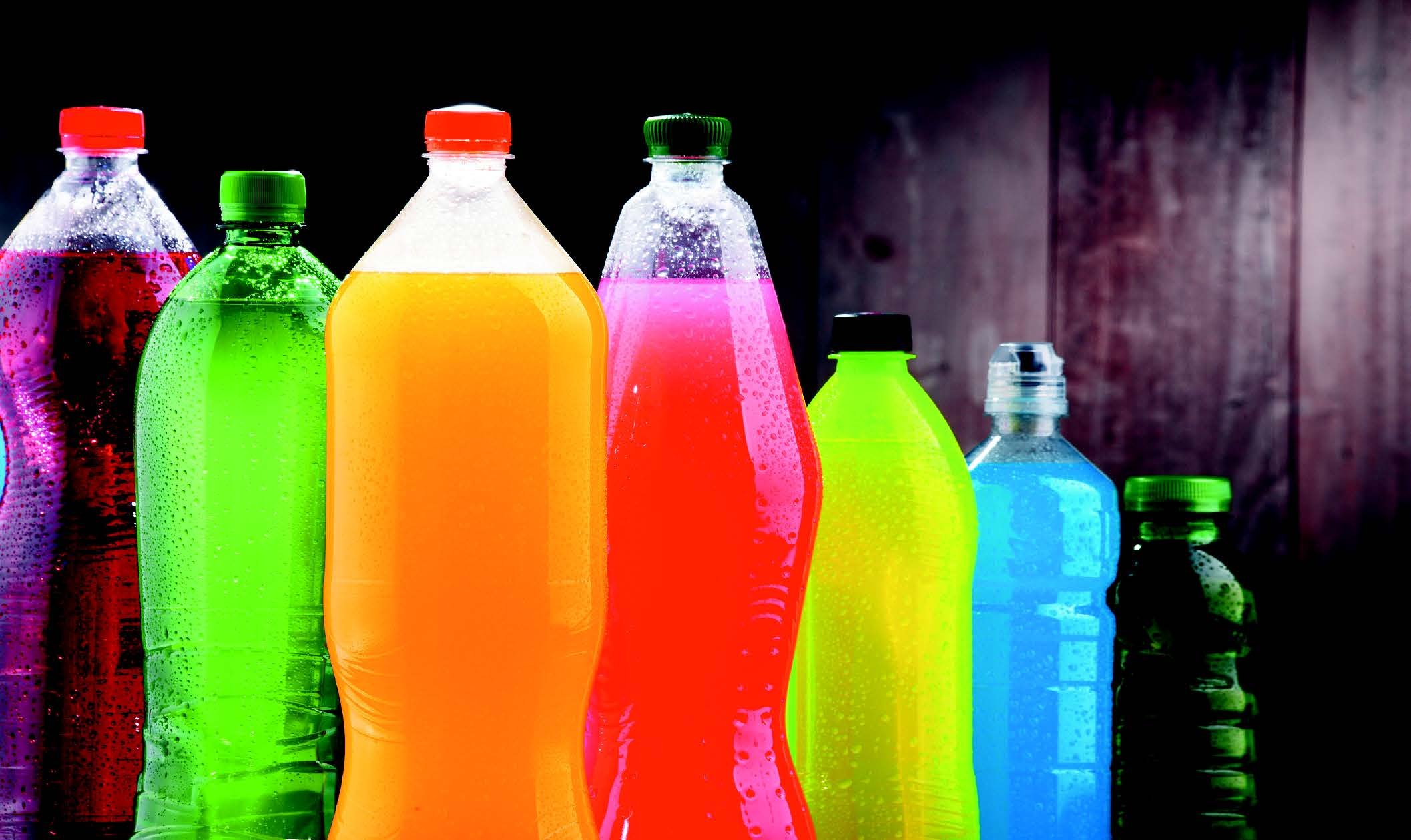 In response to rising concerns about the negative health effects of diets high in added sugars, the FDA has made "added sugars" a separate category on Nutrition Facts labels. This change should make it easier for consumers to monitor their intake of added sugars in particular.
The American Medical Association has called for further measures to protect the public's health, including front-of-package warning labels for foods high in added sugars and an FDA limit to the amount of sugar that can be added to products that claim to have health or nutritional benefits. With or without these policy changes, we, as individuals, are the only ones who can choose to find a balance between the sweetness of our diets and the sweet possibility of a long, healthy life.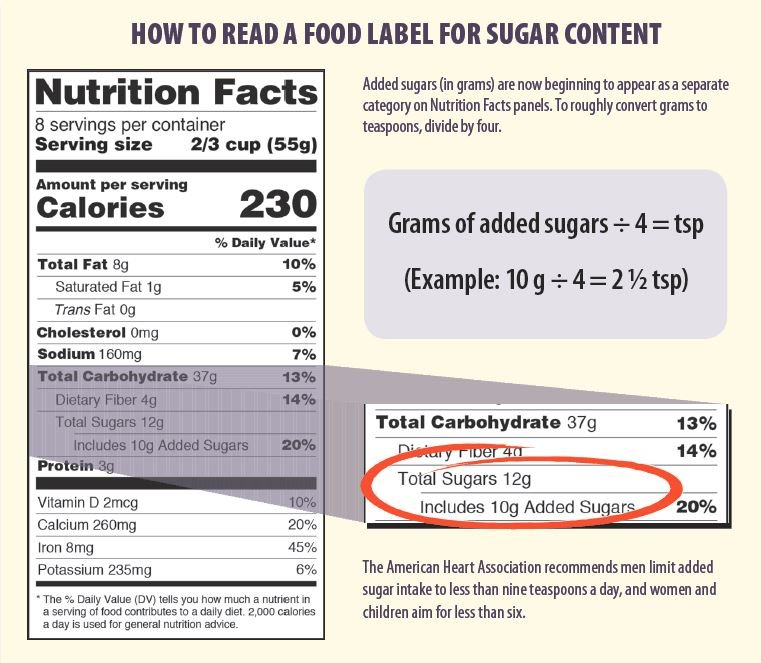 Take Charge!
All added sugars are associated with negative health effects. Try these tips to cut back:
-Cut back on all forms of added sugars, don't just switch from foods with high fructose corn syrup to those with added apple juice concentrate, for example.
-Make water your beverage of choice (milk and unsweetened coffee, tea, and herbal teas are also good choices)
-Gradually cut back on any sugar added to coffee and tea (and watch out for the excessive sugars often added to commercially-prepared coffee and tea drinks)
-Make sweets and desserts a treat not a daily event
-Check Nutrition Facts labels for added sugars (dividing the grams listed by four will give an approximate number of teaspoons)