Since you are reading this newsletter, you clearly care about your health, and it's likely you care about the health of the planet as well. It should come as welcome news that you can help the earth and the rest of its inhabitants while helping yourself—by making health-promoting dietary shifts that support sustainability.
The phrase sustainable agriculture refers to ways of growing food and raising animals that conserve natural resources and have minimal impact on the environment. Sustainable eating means choosing foods that are good for our environment and our bodies. "Most people think of sustainability as an environmental issue, but good nutrition is key," says Nicole Tichenor Blackstone, PhD, an assistant professor in the division of agriculture, food and environment at the Friedman School of Nutrition Science and Policy. "The ideal sustainable diet would be healthy, have a low environmental footprint, and be fair to producers and everyone else involved in getting food onto our tables. Plus, it should be culturally appropriate, accessible, and affordable. While that may sound like a tall order, taking steps toward sustainable eating doesn't have to be difficult or expensive."
Image © Fanch | Getty Images
A Diet for the Planet: The United Nations' Sustainable Development Goals make it clear that we must make a profound change in the way we produce food to increase productivity and sustainability while also improving human health. For example, raising cattle for beef has the biggest impact on the planet of any single human activity. It produces about 15 percent of the world's greenhouse gases and uses one-third of the world's fresh water. So, decreasing beef consumption is a simple way to shift toward more sustainable, environmentally-friendly use of resources.
Researchers in a variety of fields are looking to determine what diet is the most sustainable. Blackstone recently analyzed the environmental impacts of the three diets recommended by the Dietary Guidelines for Americans—the Healthy US-Style, Mediterranean, and vegetarian dietary patterns. Her results, published in The Lancet Planetary Health, showed that the Healthy U.S.-Style diet was tops in land use and CO2 emissions, largely because it includes the highest amount of red meat consumption of the three recommended diets. The Mediterranean pattern was the biggest contributor to water pollution. A vegetarian eating pattern had the lowest impact on all sectors: CO2 emissions, water depletion, land use, and pollution of freshwater, oceans, and the air. "You don't have to become a vegan or vegetarian to have a sustainable pattern of eating," says Blackstone. "I recommend starting with small changes, then adding others over time as you move toward a healthier and more sustainable diet. After all, these behavior changes need to be sustainable as well!"
Healthy People, Healthy Planet: The United Nations reports that 815 million people in the world are hungry today, while billions suffer from diet-related obesity and other chronic health conditions such as cardiovascular disease, diabetes, and cancer. It turns out that making healthy food choices can be as good for the planet as it is for your health. Healthy dietary patterns rich in unprocessed fruits, vegetables, nuts, legumes, grains, and moderate quantities of sustainably produced dairy, fish, and meat may reduce environmental impact of agricultural practices. "This is a win-win scenario for our health and the planet's health," says Alice H. Lichtenstein, DSc, Gershoff Professor of Nutrition Science and Policy at the Friedman School and executive editor of Tufts Health & Nutrition Letter. "However, it won't happen unless we all take an active role in being more thoughtful about our food choices."
In January of 2019, a body of experts in various fields including human health, agriculture, political science, and environmental sustainability came together to publish a report, "Food in the Anthropocene: The EAT-Lancet Commission on Healthy Diets from Sustainable Food Systems." This EAT-Lancet commission aimed to use the latest scientific evidence to develop a "planetary health diet" that is both health-promoting and environmentally sustainable. Their proposed dietary pattern is flexible: largely plant-based, but optionally including modest amounts of fish, meat, and dairy foods. Worldwide, adhering to the "planetary health diet" would mean more than doubling per-person intake of fruits, vegetables, legumes, and nuts, and cutting consumption of red meat and added sugars at least in half. The report states that "healthy diets have an optimal caloric intake and consist largely of a diversity of plant-based foods, low amounts of animal source foods, contain unsaturated rather than saturated fats, and limited amounts of refined grains, highly processed foods and added sugars."
Following the EAT-Lancet advice could mean some big changes in eating patterns. "The diet developed by the EAT-Lancet committee recommends no more than the equivalent of about three ounces of red meat per person per week, which is about the size of a deck of cards," says Blackstone. "Currently, the average American eats five to six times that much. Cutting back this much on meat intake would be a big shift."
"The dual focus of this report on human health and planetary sustainability represents a major advance," says Dariush Mozaffarian, MD, DrPH, dean of Tufts Friedman School and editor-in-chief of Tufts Health & Nutrition Letter. "But it was also controversial. Some felt it overstepped the evidence for health harms of unprocessed red meat consumption. Personally, I worry about the term 'plant-based.' Many of the worst foods for our health are plant-based: refined grains, starches, added sugars, trans fat. I prefer the term 'minimally processed, bioactive rich foods,' which also includes animal foods like fish and yogurt, but I recognize this can be a complicated concept for easy public communication."
Cutting Waste: Regardless of what we eat, cutting down on waste is a major priority. According to the United Nations, over one-third of the world's food is wasted. The EAT-Lancet report advocates cutting that waste at least in half. "U.S. consumers throw away nearly one pound of food per person every day," says Blackstone. "Cutting back on food waste is a win-win-win: It saves money, food, and all the resources it took to make that food, like land, water, and fertilizer. Plus, cutting food waste cuts down on the potent greenhouse gases emitted by all of that food in landfills. Planning meals ahead, storing food properly, and using frozen fruits and vegetables are some ways to save food and money."
Changing Policy: Transforming the way food is produced and consumed will take individual behavior change, and also national and international commitment and multi-sector, multi-level action. Public policy changes can help reduce food losses at the production side and food waste at the consumption side, and data indicate government policy can also help guide positive food choices. For example, a mathematical modelling study led by Tufts researchers published in BMC Medicine in 2017 predicted that using taxes and subsidies to provide financial incentives to purchase healthy foods and disincentives to purchase unhealthy foods could prevent tens of thousands of deaths each year from cardiometabolic diseases such as heart disease, stroke, and diabetes.
Healthy diet choices, attention to food waste, and supporting policies for more sustainable agriculture and food practices can have far-reaching impact. "The immediate personal benefit to sustainable eating is that it is good for our health," says Blackstone, "but by changing how we eat, we also have the opportunity to impact the health and well-being of current and future generations."
Take Charge!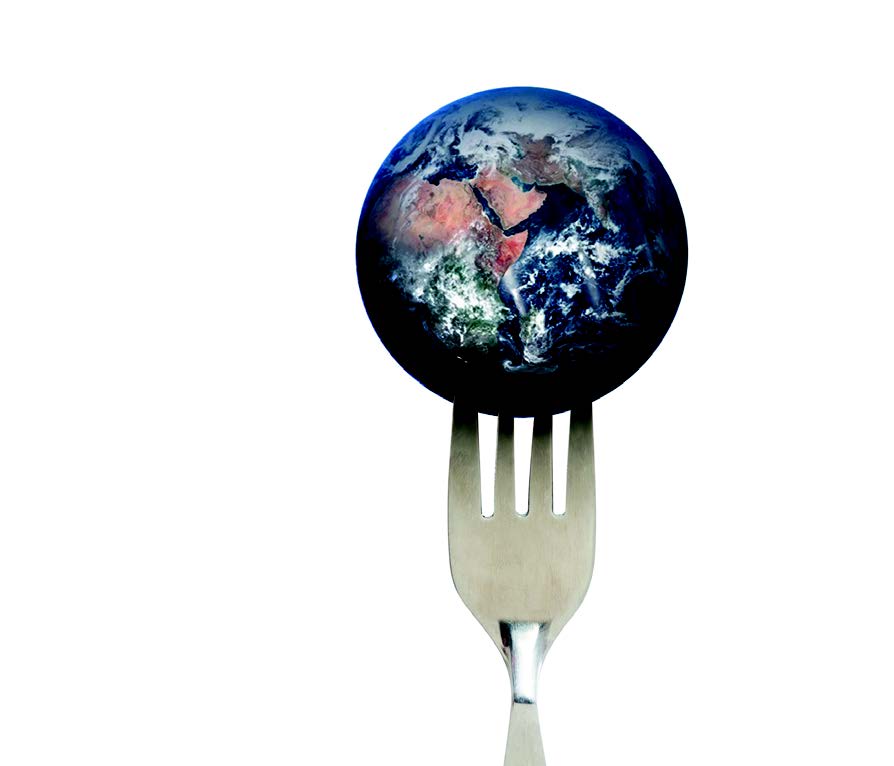 Small change can have a big impact. Try some of these simple ideas to increase your sustainable eating habits:
-Prioritize un- or minimally-processed fruits, vegetables, nuts, legumes, and grains.
-Include moderate quantities of sustainably produced dairy, fish, and poultry as desired.
-Keep red meat intake to two three-ounce servimgs or less per week.
-Choose, serve, and eat food mindfully to reduce food waste.
-Repurpose leftovers.
-Buy produce in season when feasible.
-Buy frozen fruits and veggies, which keep well and are easily portioned.
-Store food properly. (See SaveTheFood.com)