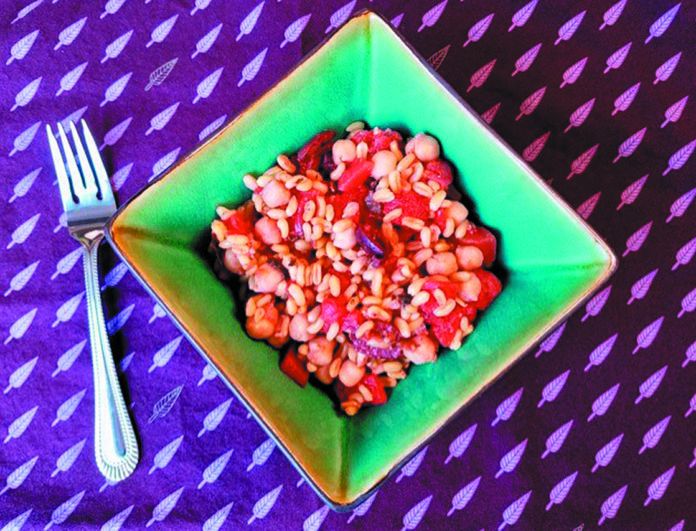 Ingredients
1 cup intact whole grain (such as wheat berries, brown rice, farro, sorghum, oats, millet)
1 (14.5-oz) can diced, no-salt-added tomatoes
1/3 cup olives, such as Kalamata, pitted and chopped
1 (14.5-oz) can white beans, or beans of your choice, drained and rinsed
2 Tbsp lemon juice
1 Tbsp red wine vinegar
2 Tbsp olive oil
½ tsp dried oregano (or about ½ Tbsp fresh)
½ tsp dried basil (or about ½ Tbsp fresh)
Salt and pepper, to taste

Steps:
Cook your whole grain according to the package directions.
Drain the grain (if necessary), and place into a large serving bowl. Mix in the tomatoes, kalamata olives, and beans.
In a small bowl, whisk together the lemon juice, vinegar, olive oil, herbs, and salt and pepper, if using.
Pour the dressing mixture over the grains and mix well. Serve warm, room temperature, or chilled.
Per serving: CaloriesCalories: 288; Total Fat: 8 g; Saturated Fat: 1 g; Total Carbohydrate: 42 g; Total Sugars: 3.5 g (Added, 0 g); Dietary Fiber: 9 g; Protein: 13 g; Sodium: 415 mg; Potassium: 830 mg; Calcium: 147 mg; Vitamin D: 0 mcg; Iron: 6 mg.
Source: Recipe and photo courtesy of Oldways, oldwayspt.org