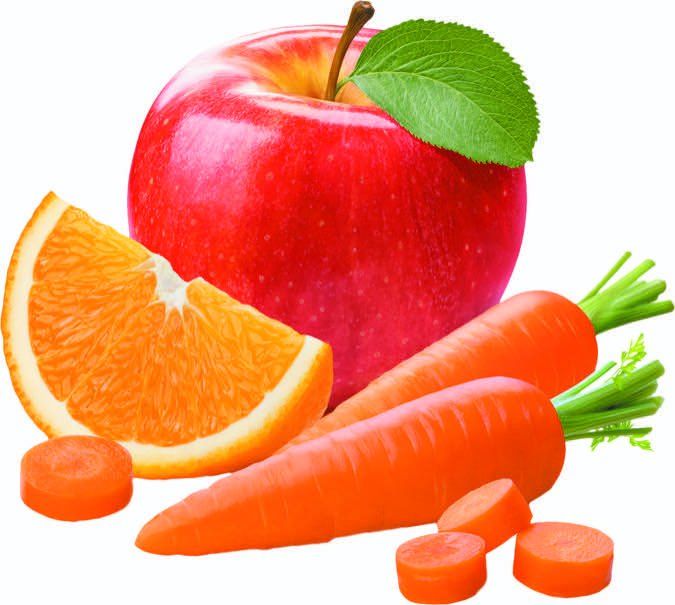 [Updated April 30, 2018]
Policymakers are looking at ways to help nudge Americans to make healthier food choices. Two possible approaches: 1) raise the prices of unhealthy foods to discourage their consumption and 2) subsidize the prices of healthy foods to encourage their consumption. The payoff from either one? Lower risk of death from cardiovascular disease, says a new study.
Dariush Mozaffarian, MD, DrPH, dean of Tufts' Friedman School, and colleagues from the University of Liverpool and Imperial College London in the UK used a computer statistical model and forecasting system (called IMPACT) to project the effects of food policies. They predicted that a combination of price cuts on fruits and vegetables, a tax on sugar-sweetened beverages and a mass media nutrition campaign could spare about 230,000 Americans from cardiovascular death over a 15-year period. The study is published in PLOS Medicine.
"Poor nutrition is the number one cause of bad health in the US and a leading driver of healthcare costs," Mozaffarian says. "Our research suggests that normalizing the prices of foods to be closer to their true societal costs and benefits can lead to dramatic health gains. The hidden costs of poor eating include what we're paying to doctors, hospitals and drug companies to cover the costs of treating chronic diseases. They also include the costs of lost productivity when people can't work because of disability or illness."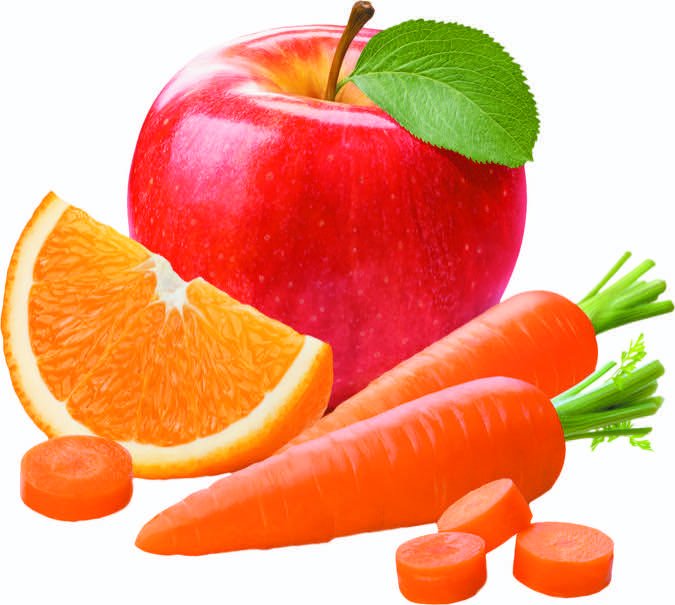 Diet and Disease: Low intake of fruits and vegetables is a strong risk factor for heart disease, stroke and common cancers. But, intake remains well below the recommended 2 cups of vegetables and 2 cups of fruit per day.
Drinking sugar-sweetened beverages (like regular sodas, sugar-sweetened fruit drinks, energy drinks and pre-sweetened coffees and teas) is associated with higher risks of obesity, type 2 diabetes, heart disease, kidney diseases, non-alcoholic fatty liver disease and tooth decay. Yet, about half of US adults drink at least one sugar-sweetened beverage on any given day.
Incentivizing Choices: Previous analysis from Tufts' Friedman School showed that taxes that increase the prices of unhealthy items, like sugar-sweetened beverages, can help decrease how much people buy. And subsidies (which result in lower prices) help increase purchases of healthy foods like fruits and vegetables. Consumers still have a choice but have a financial incentive to make a healthier selection.
"The evidence to date is that the effect upon consumer behavior of changing pricing is sustainable," says Jonathan Pearson-Stuttard, MD, MSc, lead author of the study at Imperial College London. "The evidence in food is emerging, but the price of cigarettes is a good example of how sustainable price increases through taxes reduced smoking. And, this decreased smoking rate has been sustained."
Predicting Best Policies: Pearson-Stuttard explains that in using the IMPACT model for their projections, they factored in the most comprehensive and up-to-date information on national cardiovascular disease deaths; amounts of fruits/vegetables and sugar-sweetened beverages people consume; effects of dietary changes on heart disease and stroke deaths; and effects of price changes and mass media campaigns on dietary intake. They did their analysis for the period of 2015 to 2030. On an individual policy basis for that time frame, they predicted that:
– A national 10% subsidy on fruits and vegetables could prevent or delay 150,500 cardiovascular disease deaths.
– A 30% subsidy on fruits and vegetables for people on the Supplemental Nutrition Assistance Program or SNAP (food stamps) could prevent or delay 35,100 cardiovascular disease deaths.
– A national 10% tax on sugar-sweetened beverages could prevent or delay 31,000 cardiovascular disease deaths.
– A 1-year, national mass media campaign encouraging people to eat more fruits and vegetables and drink fewer sugar-sweetened beverages could prevent or delay 25,800 cardiovascular deaths.
Food for Thought: More than a dozen countries have now passed or have proposed taxes to raise the prices of sugar-sweetened beverages. The money raised from a tax on sugar-sweetened beverages could potentially be used to fund subsidies to lower the cost of fruits and vegetables, a national mass media campaign or nutrition education in schools. These are benefits everyone could enjoy.
To learn more: PLOS Medicine, June 2017
To learn more: American Journal of Clinical Nutrition, July 2017
To learn more: Food Policy, August 2017
Eating Habits Versus Recommendations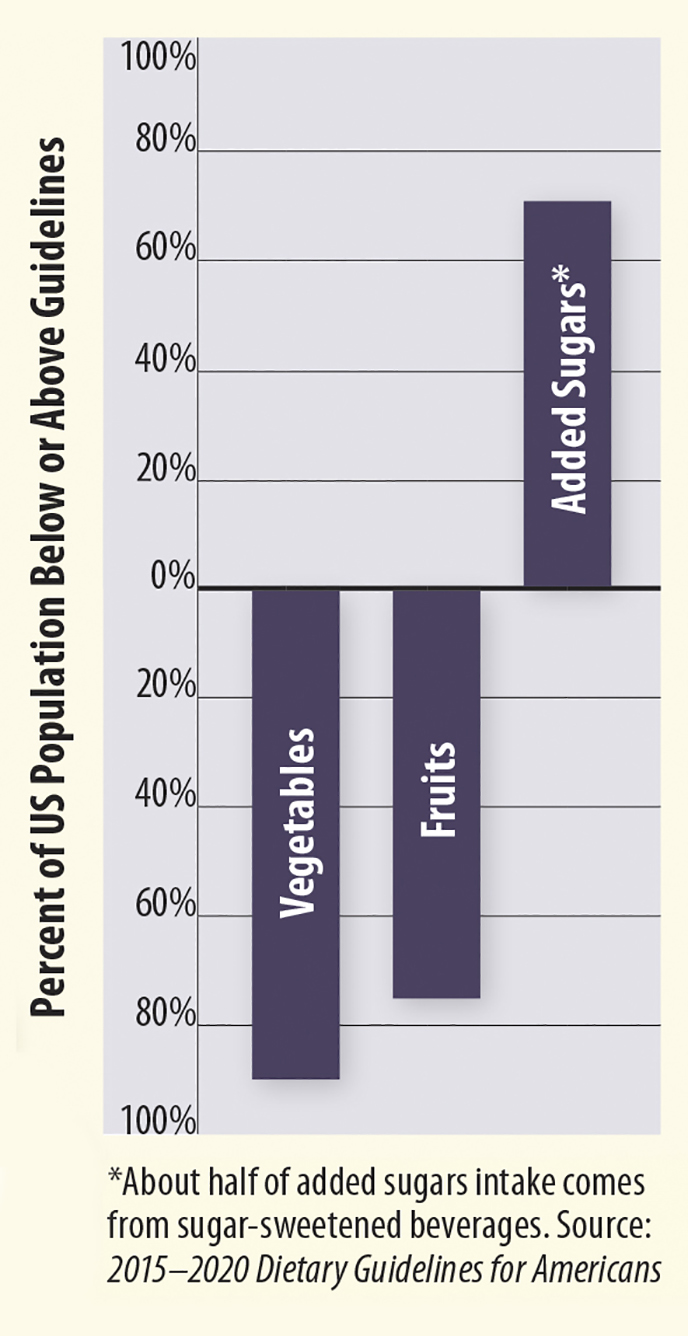 This shows the percentages of the US population below recommendations for fruit and vegetable intake and above limits for added sugars.