Autumn is here, and with it comes a wide variety of versatile winter squash. This seasonal staple can expand the nutritional profile and brighten the appearance of your fall and winter plate—while also tantalizing your palate.
Winter Squash 101: Winter squash is neither grown nor harvested in winter, but its lengthy storage time allows us to enjoy it throughout the winter. There are hundreds of varieties of squash, each with a unique size, shape, color, texture, and flavor.
Nutritious Nosh: The flesh of winter squash ranges from sunny yellow to deep orange. These colors are indicative of phytochemicals called carotenoids. The carotenoids alpha- and beta-carotene function as precursors to vision-protecting vitamin A. The phytochemicals lutein and zeaxanthin, found in winter squash as well as other yellow/orange/red vegetables, may help reduce progression of age-related macular degeneration. Winter squash are also sources of vitamins and minerals, including vitamin C, potassium, and magnesium.
Preparation for most varieties is similar. Begin by cutting the squash in half lengthwise (through the stem) and scraping out the seeds. Roast, bake, or microwave in halves—stuffed or unstuffed. Peel and cut into smaller chunks for quicker cooking (including steaming and sauting). Many stores offer pre-cut winter squash and frozen ready-to-use options. Winter squash make great additions to stews, salads, and chilis, or try them boiled and pureed as a base for soups.
Common winter squash, like butternut, acorn, and spaghetti, are readily available. For a change of pace, seek out less well-known varieties—like buttercup, delicata, or Hubbard. The vibrant oranges and yellows brighten a winter's meal, and the flavors combine with both sweet and savory dishes, delivering a hearty, healthy host of nutrients that won't disappoint.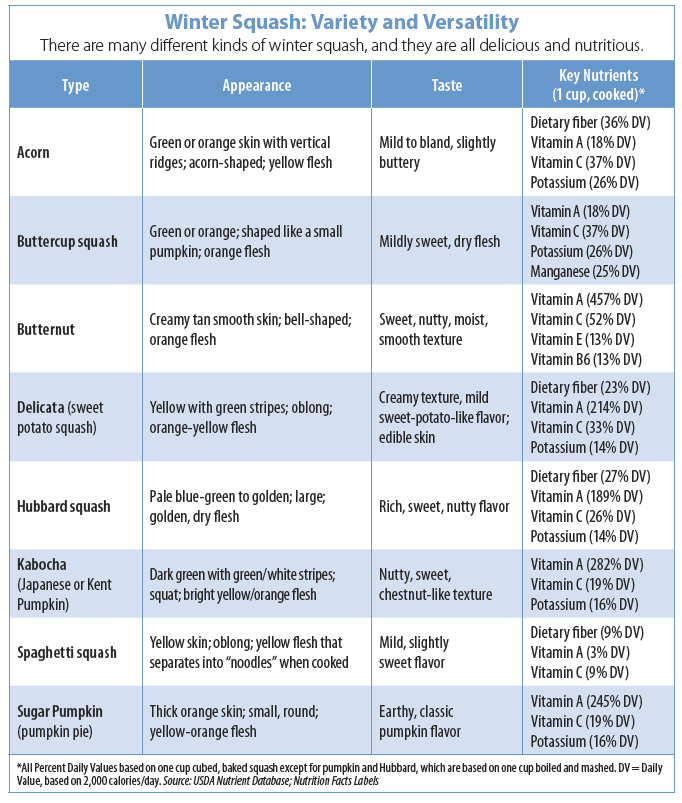 Take Charge!
Here are some tips for jumpstarting your seasonal menu and upping your nutrient intake with winter squash:
–BRIGHTEN YOUR PLATE. Vibrant yellow and orange flesh of winter squash are indicative of health-promoting phytochemicals.
-EAT FOR YOUR EYES. Eating winter squash can help you get your daily dose of vision-protecting vitamin A and other carotenoids.
-CHOOSE VARIETY. From the familiar butternut and acorn to the lesser known kabocha, the many types of winter squash bring novelty and interest to the table.
Choosing & Storing Winter Squash
-Squash should be heavy for its size and firm.
-Look for a hard and blemish-free rind with stem intact.
-Store in a cool, dry, well-ventilated place. Most varieties will keep at least two to three months.