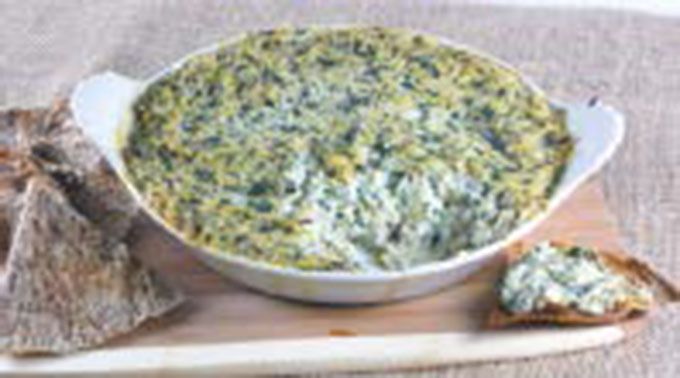 3

tsp

olive oil (divided)

1

cup

chopped onion

2

cloves

cloves garlic (minced)

1/8

tsp

crushed red pepper flakes

6

cup

baby or mature spinach

14

ounce

artichoke hearts

3/4

cup

low-fat cottage cheese

2

tbsp

low-fat mayonnaise

2

tsp

Dijon mustard

1/4

tsp

salt

1/2

cup

grated Parmesan cheese
Super Bowl parties are not known for healthy snack food, but lots of healthy foods, such as crudits and popcorn, make perfect Super Bowl fare. This easy dip is a winner for both taste and nutrition. The base of the creamy dip is artichokes, which provide fiber, vitamin C, folate and magnesium. Low-fat cottage cheese replaces much of the mayonnaise used in traditional recipes. Serve with Whole-Wheat Pita Crisps (see recipe below) or whole-grain crackers. Snack healthfully while cheering on your favorite team!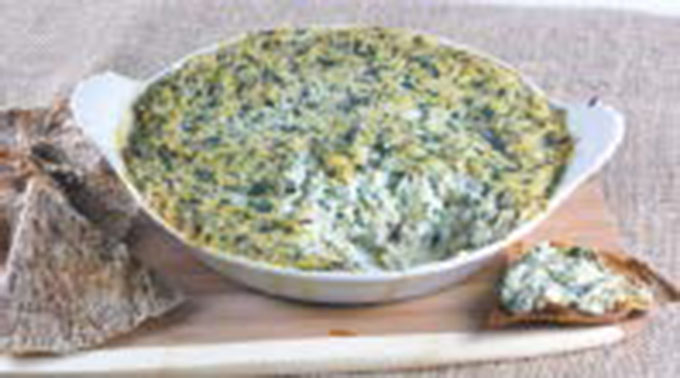 1. Preheat oven to 400 degrees. Coat a 4-cup baking dish with cooking spray. Alternatively, use several smaller bakingdishes, such as onion-soup crocks, to hold 3 cups of dip total.
2. Heat 2 tsp oil in a large skillet over medium-high heat. Add onion; cook, stirring often, until softened and just starting to turn golden, 2 to 4 minutes. Add spinach (with just the water clinging to the leaves after washing) and garlic; cook, stirring until spinach has wilted, 1 to 2 minutes. Remove from heat.
3. Place artichokes, cottage cheese, mayonnaise, mustard, salt and black pepper in a food processor; process until smooth. Add spinach mixture and Parmesan; pulse just until blended. Scrape artichoke mixture into prepared baking dish. (The dip will keep, covered, in the refrigerator for up to 2 days.)
4. Bake, uncovered, until heated though, 25 to 35 minutes. Drizzle remaining 1 tsp oil over top. Serve hot.
YIELD: 12 (1/4-cup) servings.
PER SERVING: Calories: 90. Total fat: 4.5 grams. Saturated fat: 1.5 grams. Cholesterol: 5 milligrams. Sodium: 370 milligrams. Carbohydrates: 7 grams: Fiber: 1 gram. Protein: 5 grams.
WHOLE-WHEAT PITA CRISPS: Cut each of 4 (6- or 7-inch) whole-wheat pita breads into 6 triangles. Separate eachtriangle into 2 halves at the fold. Arrange, rough side up, on 2 large rimmed baking sheets. Spritz pitas lightly with olive oilcooking spray. Bake at 400 degrees until crisp, 5 to 8 minutes. Makes 48 pita crisps; 15 calories each.