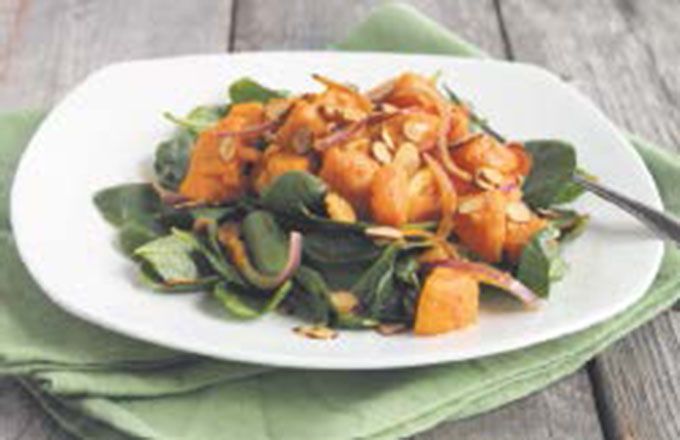 1/3

cup

thinly sliced red onion

3

tbsp

sliced almonds

2 3/4

cup

sweet potatoes peeled and cut into 3/4 chunks

1/4

cup

fresh orange juice

4

tsp

lemon juice

1/2

tsp

honey

1/2

tsp

minced garlic

1/2

tsp

ground cinnamon

1/2

tsp

ground ginger

1/2

tsp

tumeric

1/4

tsp

salt or to taste

1/8

tsp

pepper

2

tbsp

extra virgin olive oil

4

cup

baby spinach (washed & dried)
Potato salad is a summertime classic, but not exactly what the doctor ordered for your joint health. Swap your mayonnaise-laden white potato salad for this colorful and healthful recipe, which features sweet potatoes, a lively citrus dressing, and vitamin-rich spinach. The sweet potatoes are rich in beta carotene and vitamin C, which promote joint health, and even the seasonings have nutritional benefits. Ginger and turmeric have anti-inflammatory properties, while cinnamon helps control blood sugar. If you have leftovers, just heat in the microwave to warm the sweet potatoes and wilt the spinach for an appealing side dish.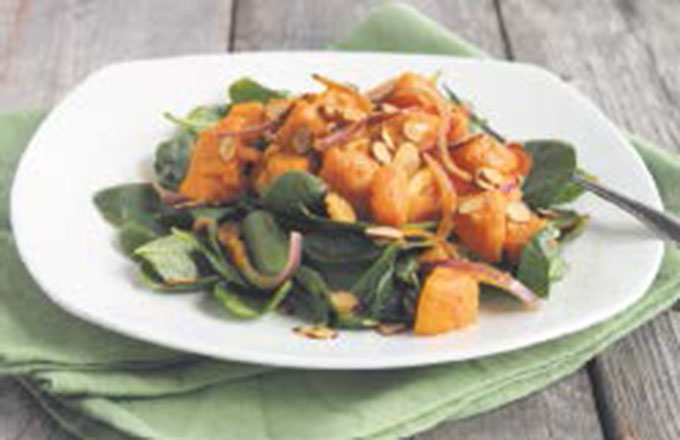 1. Place onion in a medium bowl and cover with ice water. Let soak for 10 to 15 minutes.
2. Place almonds in microwave-safe bowl and microwave at High 1 to 2 minutes, or until fragrant andlightly toasted. (Alternatively, spread almonds in small baking pan; toast in 350-degree oven 10to15 minutes.) Let cool.
3. Meanwhile, place sweet potatoes in a large saucepan. Cover with water and bring to a simmer.Reduce heat to medium-low, cover and cook 5 to 7 minutes or just until tender but still firm. Drain.
4. While sweet potatoes are cooking, whisk orange juice, lemon juice, garlic, cinnamon, ginger, turmeric,salt and pepper in large bowl. Whisk in oil. Reserve 3 tablespoons of this dressing for spinach.
5. Add hot sweet potatoes to dressing in bowl. Drain onions and add to sweet potatoes; toss gently withrubber spatula to mix. Toss spinach with reserved 3 tablespoons dressing in a large bowl. Moundspinach on 4 plates. Top with sweet potato salad and sprinkle with toasted almonds. Serve warm.
YIELD: 4 servings (3/4 cup sweet potato salad and 1 cup spinach salad).
PER SERVING: Calories: 210. Total fat: 9 grams. Saturated fat: 1 gram. Cholesterol: 0 milligrams.Sodium: 220 milligrams. Carbohydrate: 33 grams: Fiber: 5 grams. Sugars: 8 grams. Protein: 3 grams. Vitamin A: 350% DV. Vitamin C: 45% DV.