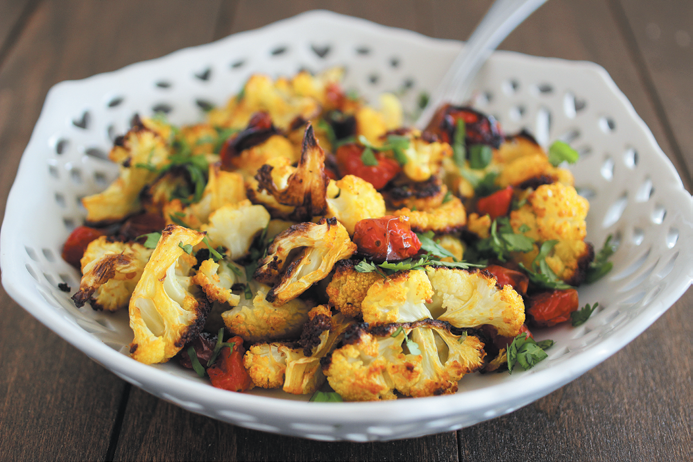 Ingredients
1⁄4 cup olive oil
1 tsp sea salt
1⁄2 tsp ground turmeric
1⁄8 tsp cayenne pepper
1 large head cauliflower, cut into florets (about 10 cups)
12 oz cherry tomatoes, halved (about 2 cups)
2 Tbsp chopped fresh cilantro
Steps:
Preheat oven to 425°F.
Mix oil, sea salt, turmeric, and cayenne pepper in small bowl. Place cauliflower and tomatoes in large bowl. Drizzle with 1⁄2 of the oil mixture; toss to coat well. Repeat with remaining oil mixture.
Spread vegetables in single layer on a foil-lined large shallow baking pan.
Roast 40 minutes or until cauliflower is tender, stirring halfway through cooking time. Sprinkle with cilantro before serving.
Yield: 10 servings
Per serving: Calories: 75; Total Fat: 5 g; Saturated Fat: 0 g; Total Carbohydrate: 7 g; Total Sugars: 3 g (Added, 0 g); Dietary Fiber: 3 g; Protein: 2 g; Sodium: 219 mg; Potassium: 388 mg; Calcium: 26 mg; Vitamin D: 0 mcg; Iron: 1 mg.
(tsp = teaspoon; oz = ounces; Tbsp = Tablespoons; g=grams; mg=milligram(s); mcg = micrograms.)
Recipe and photo courtesy of McCormick & Company, Inc., McCormick.com