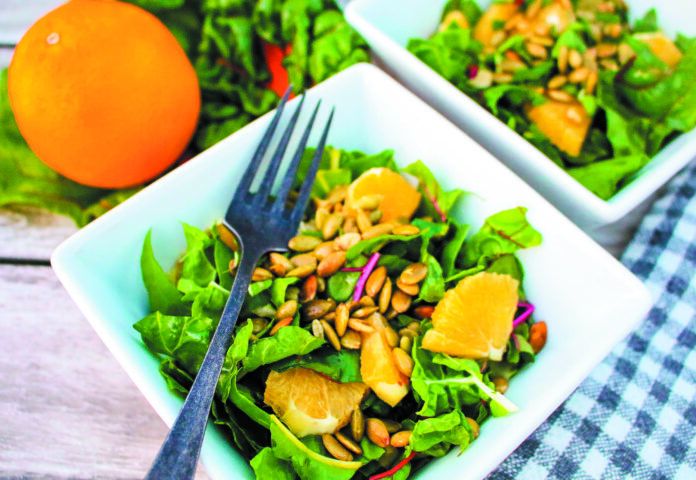 Ingredients:
Salad:
1 bunch (about 3 cups chopped) baby Swiss chard (or other green, such as spinach or kale)
2 medium oranges, peeled and chopped
¼ cup pumpkin seeds (or other nut or seed, such as chopped almonds or sunflower seeds)
Cumin Vinaigrette:
2 Tbsp extra virgin olive oil
½ orange, juiced (about
2–3 Tbsp)
¼ tsp cumin
Salt and pepper (as desired, optional)
Steps: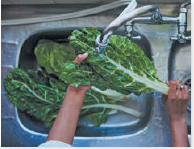 Wash chard leaves and dry. Chop them fairly fine and place in a large salad bowl. Add oranges (plus other half of the orange not juiced for the vinaigrette, if desired), and pumpkin seeds.
To make vinaigrette: Whisk together oil, juice, cumin, and salt and pepper (optional) in a small dish.
Toss dressing into salad, combining well. Chill for 30 minutes to 1 hour to allow dressing to tenderize leaves. Toss again to distribute ingredients and serve.
Per serving: Calories: 107; Total Fat: 7 g; Saturated Fat: 1 g; Total Carbohydrate: 9 g; Total Sugars: 7 g (Added, 0 g); Dietary Fiber: 2 g; Protein: 2 g; Sodium: 40 mg; Potassium: 241 mg; Calcium: 36 mg; Vitamin D: 0 mcg; Iron: 1 mg.
(Tbsp=tablespoons; tsp=teaspoon; g=gram(s); mg=milligram(s); mcg = micrograms)
Recipe adapted courtesy of Sharon Palmer, MSFS, RDN, The Plant-Powered Dietitian, sharonpalmer.com