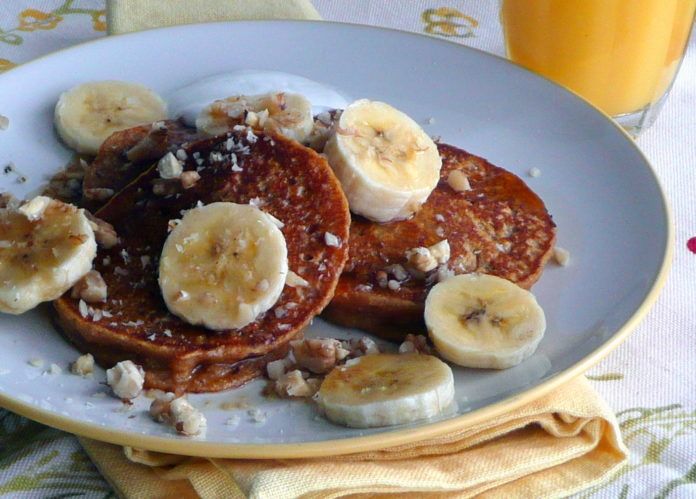 1/2

cup

white whole-wheat flour

1

tsp

baking powder

1/4

tsp

salt

1/2

tsp

ground cinnamon

1

egg

1

cup

low-fat 1% milk

2

tbsp

light brown sugar

2

tsp

canola oil

1

tsp

vanilla extract

2

bananas, sliced

1/4

cup

maple syrup, warmed

2

tbsp

chopped walnuts,pecans,almonds or hazelnuts

1/4

cup

nonfat plain or vanilla yogart

3/4

cup

mashed cooked sweet potato
Whisk flour, baking powder, salt and cinnamon in large bowl until blended. Whisk egg, sweet potato, milk, sugar, oil and vanilla in medium bowl until smooth. Add wet ingredients to dry ingredients; mix with rubber spatula until blended.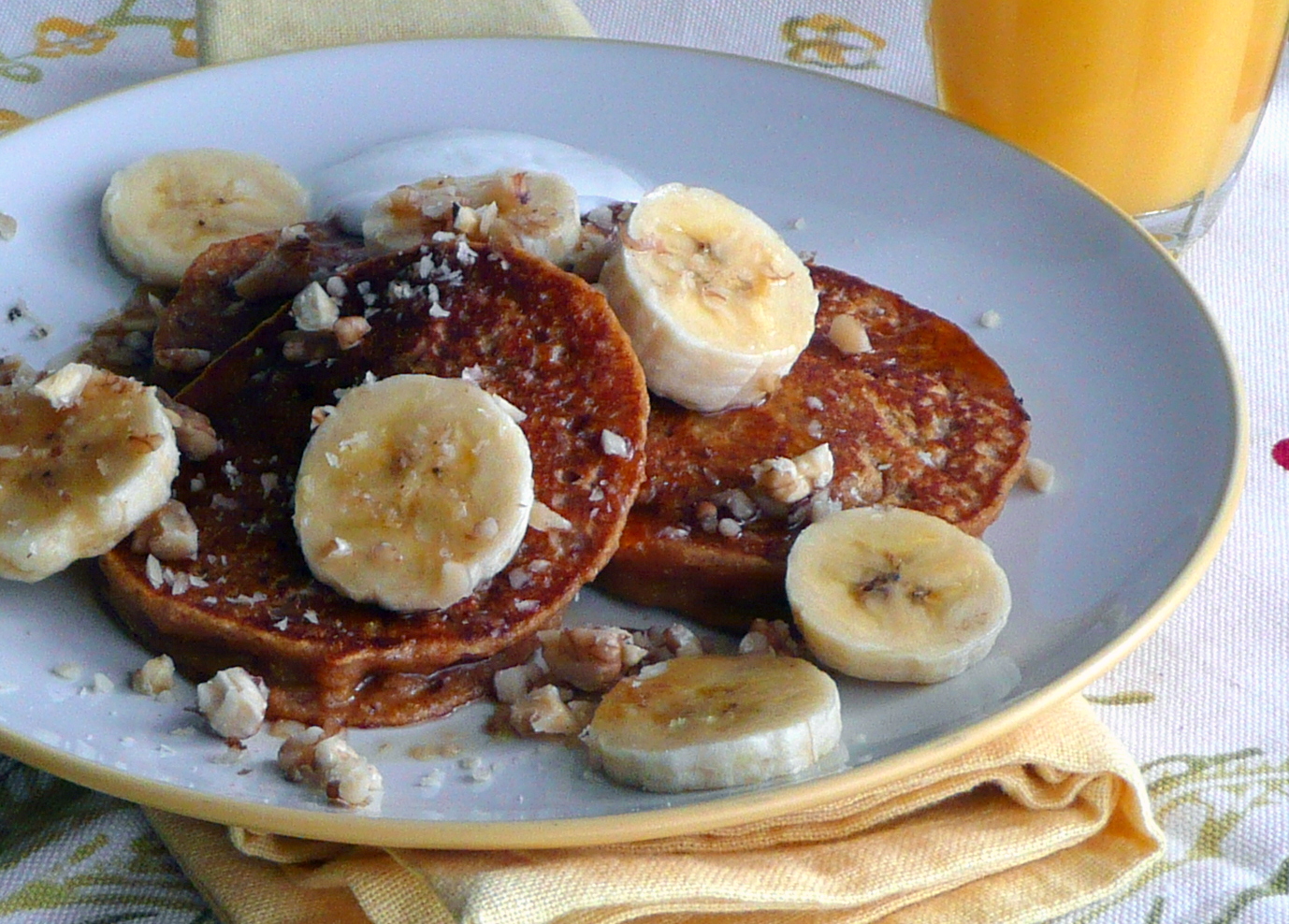 To make pancakes: Coat large nonstick skillet or griddle with cooking spray; heat over medium heat. Spoon about 1/4 cup batter for each pancake into skillet; cook until bottoms have browned and small bubbles form on top, about 3 minutes. Flip and cook until pancakes are browned and cooked through, about 2 minutes. (Adjust heat as necessary for even browning.)
To make waffles: Coat waffle iron with cooking spray; heat iron. Spoon in enough batter to cover 3/4 of the surface of each section, close iron and cook until waffles are crisp and golden brown, 4 to 5 minutes.
To serve, top pancakes or waffles with bananas (or blueberries), maple syrup, and a sprinkling of nuts. Accompany with yogurt.
Yield: 4 servings, 3 pancakes each.
Per serving: Calories: 330. Total fat: 7 grams. Saturated fat: 1 gram. Cholesterol: 60 milligrams. Sodium: 360 milligrams. Carbohydrates: 59 grams: Fiber: 6 grams. Sugars: 31 grams. Protein: 9 grams. Vitamin A: 200%.
Tip: To cook sweet potatoes in the microwave, scrub them and pat dry. Prick in several places with a fork. Wrap individually in paper towels. Microwave at High, 5 to 8 minutes for one, 10 to 12 minutes for two, or 15 to 20 minutes for four. (If microwave does not have a turntable, turn sweet potatoes over midway through cooking.) Let stand 5 minutes. Make a slit in each potato and scoop out flesh.
Gluten-Free Variation: Substitute 2/3 cup brown rice flour for white whole-wheat flour.
Leftovers? Wrap any leftover pancakes or waffles in plastic wrap or zip-close food bag and refrigerate for up to 2 days or freeze for up to 1 month. Reheat in toaster or toaster oven.