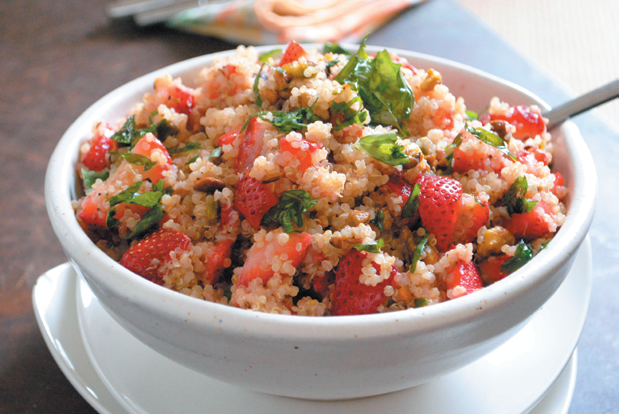 Ingredients:
¼ cup olive oil
¼ cup fresh basil
1 cup dried quinoa, cooked (makes about 3 cups)
1½ cups fresh strawberries, sliced or chopped
¼ cup shelled pistachios, chopped
Salt and pepper to taste, optional
Crumbled feta cheese, optional
Steps:
To flavor the olive oil with basil, in small pan, heat the olive oil and then sauté basil until crispy, about 4 minutes. Remove basil and let drain on a paper towel.
In mixing bowl, combine all remaining ingredients and gently stir.
Garnish with crumbled fried basil leaves and feta cheese (optional)
Yield: 3 servings
Per serving (without optional ingredients): Calories: 313; Total Fat: 24 g; Saturated Fat: 3 g; Total Carbohydrate: 21 g; Total Sugars: 4 g (Added, 0 g); Dietary Fiber: 4 g; Protein: 5 g; Sodium: 8 mg; Potassium: 334 mg; Calcium: 37 mg; Vitamin D: 0 mcg; Iron: 1 mg.
(g=grams; mg=milligram(s); mcg = micrograms)
Recipe and photo courtesy of California Strawberries, californiastrawberries.com