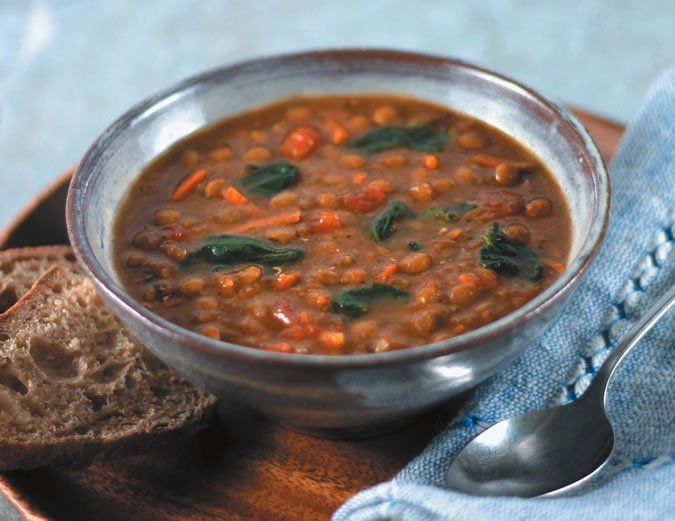 1

Tbsp

vegetable oil

1 1/2

cups

chopped onion (frozen or fresh)

1

cup

shredded or diced carrots (prepared or fresh)

2

tsp

minced garlic (prepared or fresh)

1 1/2

tsp

dried thyme leaves

4

cups

low-sodium chicken broth or vegetable broth (one 32-oz carton or can)

1

can

diced tomatoes (14.5 oz)

1 1/4

cups

brown lentils, picked over and rinsed

1 1/4

cups

water

1

bay leaf

6

cups

baby spinach (one 5- or 6-oz package) or

2

cups

(5 oz) IQF (individually quick frozen) spinach

1

Tbsp

lemon juice, or to taste

1/2

tsp

salt, or to taste

1/8

tsp

pepper, or to taste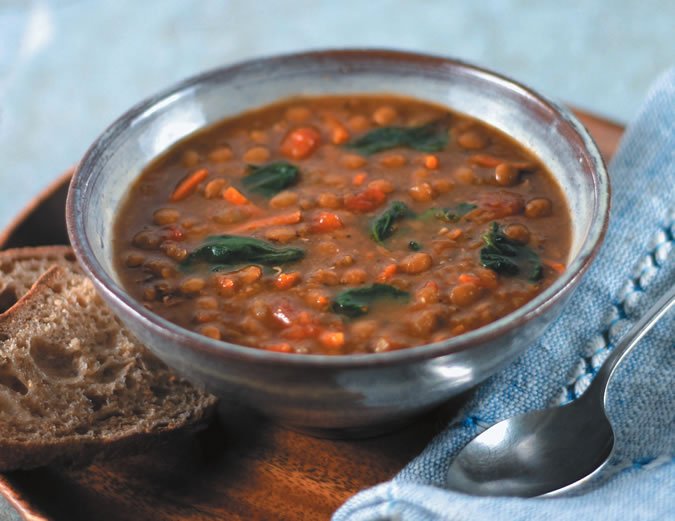 Humble dried lentils are a valuable pantry staple and they are easy to cook. Unlike dried beans, they do not require pre-soaking. Lentils are a good source of plant protein, fiber, minerals (like iron and zinc) and folate. They are economical too—ideal for hearty soups like this one. As this recipe takes advantage of convenience products like frozen chopped onions, jarred minced garlic and prepared shredded carrots, the soup is a cinch to make. It takes about an hour to cook on the stovetop. Pureing a portion of the soup gives it body while maintaining the texture with some intact lentils, but is optional and depends on your personal preference. This step is easy to do with an immersion blender. You can also use a regular blender, but be sure to use caution when blending hot liquids. The soup keeps well and can also be frozen.
STEPS
1. Heat oil in a 6-quart soup pot or Dutch oven over medium heat. Add onion; cook, stirring occasionally, until moisture has evaporated and onions have softened, 5to 7 minutes. Add carrots, garlic and thyme; cook, stirring, until fragrant, about 30seconds.
2. Add broth, tomatoes, lentils, water, and bay leaf. Bring to simmer. Reduce heat to medium-low, cover and simmer until lentils are tender, 50 to 60 minutes. Discard bayleaf.
3. If desired, pure about half the soup with an immersion blender or blender (caution, letcool first to avoid burns). Return pure to soup.
4. Just before serving, heat soup over medium-high heat. Add spinach and stir just until spinach has wilted, about 1 minute. Season with lemon juice, salt and pepper. (The soup will keep, covered, in the refrigerator for up to 3 days or in the freezer or up to 4months [best to freeze before adding spinach]. The soup may thicken upon standing. Add a little water or extra broth toachieve desired consistency.)
Active time: 15 minutes • Total time: 1 hours • Yield: 8 (1-cup) servings
Per serving: Cal 160, Fat 2 g (Sat 0 g, P:S 0), Carb 25 g, Total sugars 3 g (Added 0 g), Fiber 5 g, Protein 10 g, Sodium260 mg, Potassium 328 mg, Calcium 51 mg, Vitamin D 0 mcg, Iron 3 mg.
Recipe abbreviations: Cal: calories, Sat: saturated fat, F:S:total fat to saturated fat ratio, carb: carbohydrate, g: grams, mg:milligrams, mcg: micrograms, Tbsp: tablespoons, tsp: teaspoons, oz: ounce