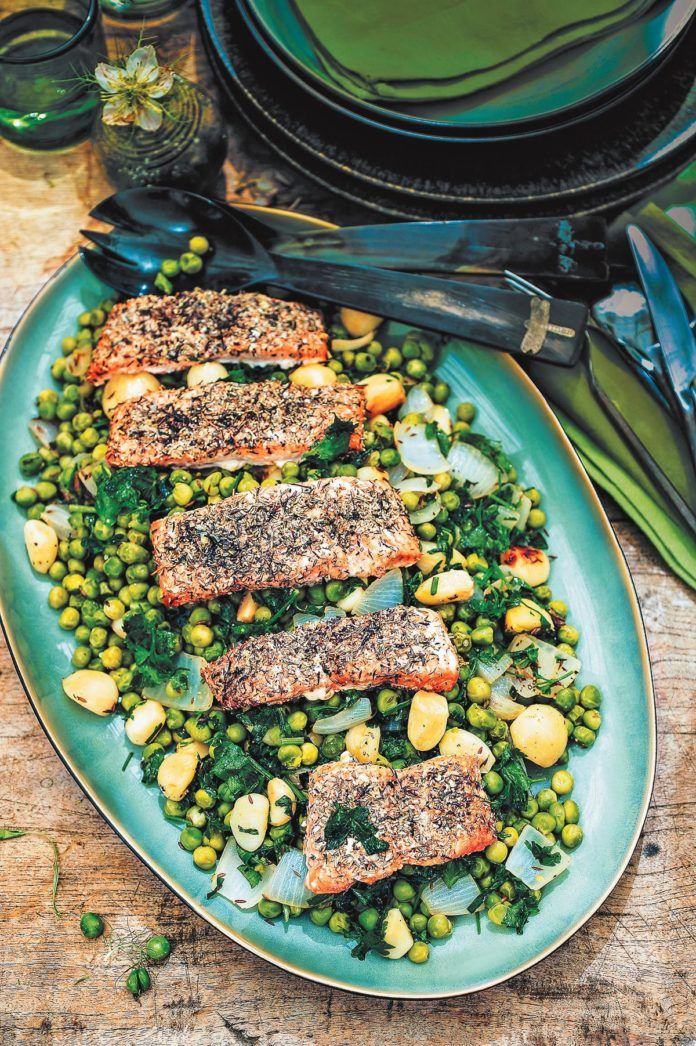 4

ounce

4 pieces of salmon fillet

2

tsp

dried thyme leaves

1/2

tsp

salt, divided

1

Ground black pepper to taste

1

tbsp

olive oil, divided plus

3

tsp

olive oil, divided

1

large white onion

2

garlic bulbs

1

pound

shelled green peas

3

tbsp

mixed fresh herbs: basil, chives and flat-leaf parsley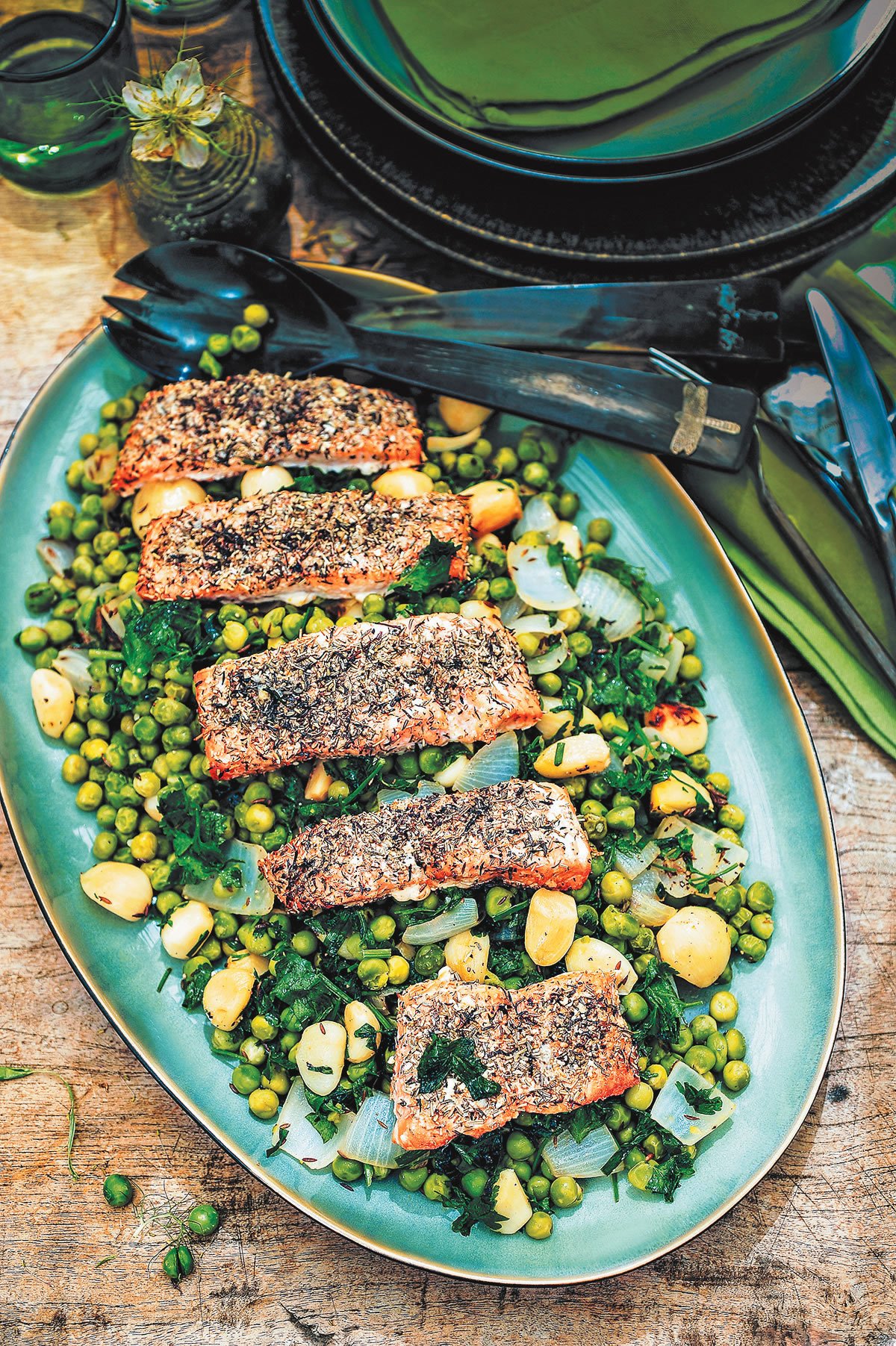 STEPS
1. Preheat oven to 350 F.
2. Season the salmon pieces with thyme and tsp salt, and pepper. Drizzle 1 Tbsp olive oil over the salmon, making sure the dried thyme is covered by the oil. Place the salmon in a baking dish and bake until the salmon flakes when tested with a fork, approximately 20 minutes.
3. Meanwhile, cut the onion into large pieces. Peel the garlic cloves, but leave them intact. Bring a pot of water to a boil. Add peas, onion pieces, garlic cloves, 1 tsp oil, remaining tsp salt and pepper to taste. Cook, covered, for 5 minutes.
4. Drain the peas and vegetables; return the pan to the heat, add the remaining 2 tsp olive oil and stir-fry everything for approximately 5 minutes.
5. Meanwhile, finely chop the herbs.
6. Remove the pan from the heat and stir in the herbs. Arrange the vegetables on a dish and place the salmon fillets on top.
Preparation: 15 minutes • Cooking: 20 • Yield: 4 servings
Per serving: Cal 400, Fat 20 g (Sat 3.5 g, P:S 1.6:1), Carb 25 g, Total sugars 8 g (Added 0 g), Fiber 8 g, Protein 30 g, Sodium 360 mg, Potassium 788 mg, Calcium 92 mg, Vitamin D 13 mcg, Iron 3 mg
Recipe abbreviations: Cal: calories, Sat: saturated fat, P:S: polyunsaturated fat to saturated fat ratio, Carb: carbohydrate, g: grams, mg: milligrams, mcg: micrograms, Tbsp: tablespoons, tsp: teaspoons, oz: ounce.
Recipe adapted from original material by Belgian culinary author Pascale Naessens, author of Pure & Simple: A Natural Food Way of Life (Harry N. Abrams, 2017). For more recipes, see <purepascale.com>