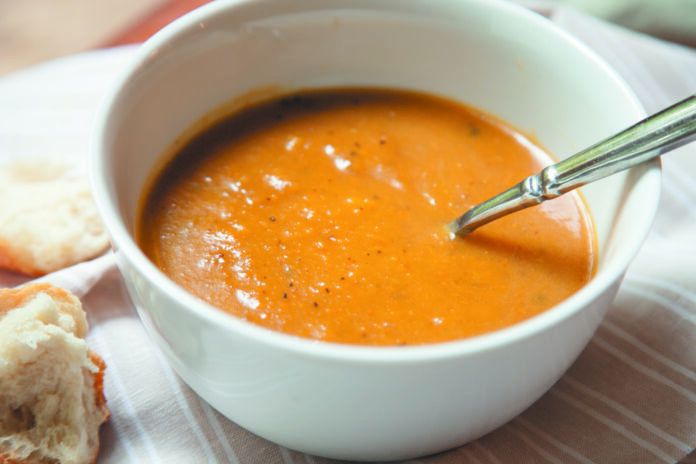 Ingredients:
8 medium pears (d'Anjou or Bartlett), peeled and diced
4 cups diced butternut squash (2.5 to 3 lbs squash, peeled, seeded, and cubed)
¾ cup diced red onion
1 tsp garlic, minced
½ tsp dried rosemary
1½ Tbsp extra virgin olive oil
½ tsp kosher salt
1 tsp ground black pepper
32 oz broth (chicken or vegetable)
Steps:
Preheat oven to 400°F.
Place pears, squash, onion, garlic, and rosemary on a large sheet pan and drizzle with olive oil; season with salt and pepper. Toss gently to combine, then spread out into one layer. Roast in oven for 35 to 40 minutes.
Remove from oven to cool. Place pear-squash-onion mixture into food processor fitted with blade and add enough broth to cover. Process until smooth.
Transfer to a stock pot. Add remainder of broth and mix thoroughly. Simmer soup gently for about 15 minutes and serve.
Yield: 6 (1 cup) servings
Per serving: Calories: 166; Total Fat: 5 g; Saturated Fat: 1 g; Total Carbohydrate: 30 g; Total Sugars: 14 g (Added, 0 g); Dietary Fiber: 6 g; Protein: 5 g; Sodium: 437 mg; Potassium: 611 mg; Calcium: 68 mg; Vitamin D: 0 mcg; Iron: 1 mg.
(lbs = pounds; tsp=teaspoon; Tbsp=tablespoons; oz=ounces; g=gram(s); mg=milligram(s); mcg = micrograms.)
Recipe and photo courtesy of Produce for Better Health Foundation (fruitsandveggies.org) in partnership with Stemilt Growers.