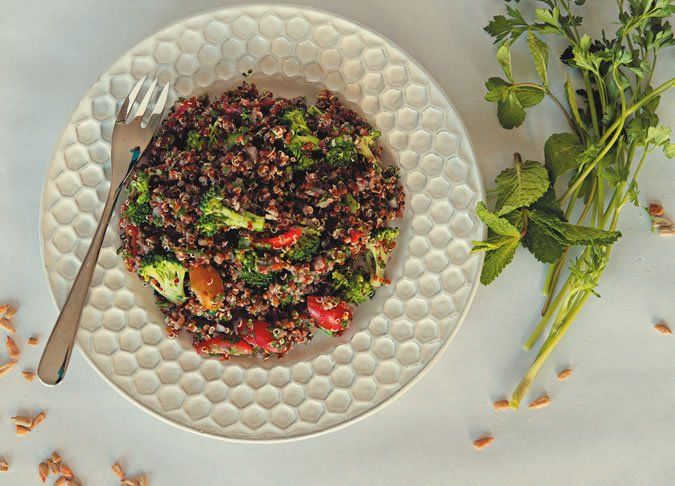 1

cup

red, white, or black quinoa, or a mixture, uncooked

2

cup

water or low-sodium vegetable broth (gluten-free, if necessary)

1 1/2

cup

bite-size broccoli florets (about 1 bunch, trimmed, or frozen)

1

Zest from lemon

3

tbsp

Juice of 1 lemon

3

tbsp

olive oil

1/4

cup

minced red onion

1

pinch red pepper flakes

1

cup

fresh cherry or grape tomatoes, diced

3/4

cup

chopped fresh parsley

2

tbsp

chopped fresh mint

2

tbsp

chopped fresh basil

1

Sea salt, to taste

1

Freshly ground pepper, to taste

1

Sunflower seeds or pine nuts, optional
Quinoa replaces the bulgur wheat traditionally used in this Mediterranean dish. This naturally gluten-free recipe provides complete plant protein.
STEPS
Rinse quinoa and combine with water or broth in a 2- to 3-quart saucepan. Bring mixture to a boil, reduce heat to a simmer, cover, and cook 15 minutes or until liquid is absorbed and quinoa is tender. Stir quinoa and set aside to cool.
Blanch broccoli in boiling water 2 minutes. Remove from water and place into an ice bath to stop cooking. Drain thoroughly.
In a large bowl, whisk together lemon zest, lemon juice, olive oil, red onion, and red pepper flakes. Stir in tomato, parsley, mint, basil, quinoa, and broccoli.
Season with salt and pepper, to taste. Top with optional seeds or nuts, if using. Serve at room temperature or chilled.
Yield: 6 (1 cup) servings
Per Serving (without seeds/nuts): Calories: 183; Total fat: 9 g; Saturated fat: 1 g; Cholesterol: 0 g; Sodium: 29 mg; Total carbohydrate: 22 g; Fiber: 3 g; Sugars: 1 g; Protein: 5 g.
Tbsp = tablespoon; g = gram(s); mg = milligrams.
Adapted from a recipe by Sueson Vess, courtesy of glutenfreeandmore.com