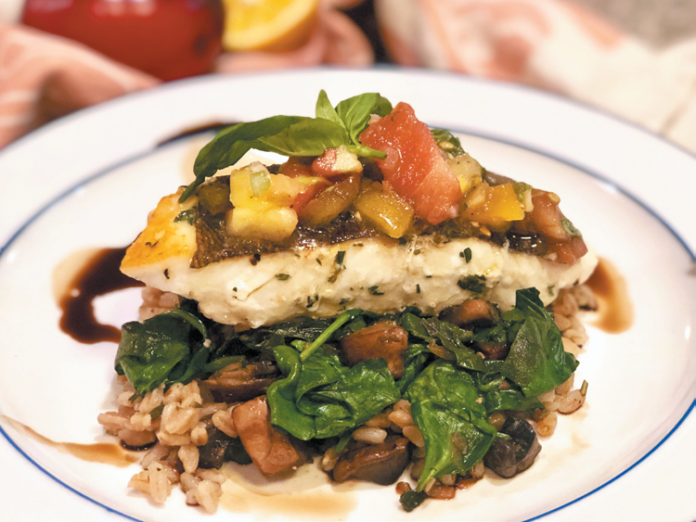 2

5-oz halibut fillets (could substitute cod)

Salt and freshly ground black pepper, to taste

1

tsp

olive oil

1

tsp

butter

1

tsp

fresh thyme, chopped (or 1/3 tsp dried)

1/2

Juice of a Lemon

Tomato Topping:

1/2

lb

heirloom or other tomatoes, chopped (juices saved)

1

tsp

fresh basil, chopped (or 1/3 tsp dried)

1/2

tsp

olive oil

1

tsp

shallot (or scallion whites), minced

1

tsp

chives (or scallion greens), chopped

1

tsp

white balsamic vinegar (or regular balsamic)

Salt and freshly ground black pepper, to tast
STEPS
In a medium bowl, combine the tomatoes and their juices with the basil, olive oil, shallots, and chives. Season with salt and pepper (to taste) and set aside.
Pat dry the halibut fillets with paper towels to remove extra moisture, and season with salt
and pepper.
In a medium nonstick skillet, heat 1 tsp. of olive oil over medium-high heat.
Add the halibut and cook until browned on the bottom (or skin has turned crispy), about 5 minutes.
Flip the fillets and add the butter, thyme, and lemon to the skillet; spoon the liquid over the fillets as they cook, about 2 minutes longer.
Transfer the halibut to a plate. Spoon 2 Tbsp of the tomato mixture on top of each filet.
Yield: 2 (4 oz) servings
Nutrients per serving: Calories: 178; Total Fat: 6 g; Saturated Fat: 2 g; Total Carbohydrate: 8 g; Total Sugars: 1 g (Added, 0 g); Dietary Fiber: 2 g; Protein: 26 g; Sodium: 187 mg; Potassium: 328 mg; Calcium: 21 mg; Vitamin D: 0 mcg; Iron: 0.5 mg.
(oz = ounce; tsp = teaspoon; lb = pound; g = grams; mg = milligrams; mcg = micrograms)
Source: American Institute for Cancer Research. Reprinted with permission from the American Institute for Cancer Research (aicr.org).