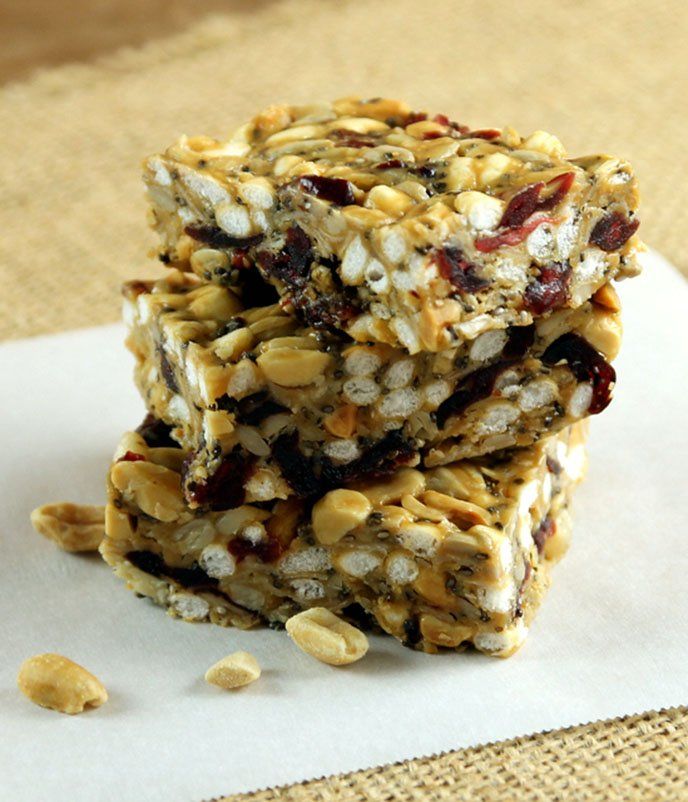 1

cup

old-fashioned rolled oats

1

cup

unsweetened puffed rice cereal

1

cup

dried cranberries

1/2

cup

unsalted roasted peanuts

1/2

cup

unsalted shelled sunflower seeds

1/4

cup

chia seeds

3/4

cup

unsalted peanut butter

1/2

cup

mild honey

1

tsp

vanilla extract
Makes 18 2 1/4x2-inch bars
Commercial breakfast and snack bars are awash in dubious nutrition claims. This recipe is simple to make and handy to have on hand for breakfasts or snacks on the go.
Line a 7×11 or 9×9-inch baking dish with aluminum foil, leaving a 1-inch overhang along each long side.
Mix 1 cup old-fashioned rolled oats, 1 cup unsweetened puffed rice cereal (preferably brown rice), 1 cup dried cranberries, 1/2 cup unsalted roasted peanuts, 1/2 cup unsalted shelled sunflower seeds and 1/4 cup chia seeds in large bowl.
Combine 3/4 cup unsalted peanut butter and 1/2 cup mild honey in small saucepan; stir over low heat until blended and smooth.
Stir in 1 tsp vanilla extract. Add to oat mixture; mix well.
Scrape into prepared baking dish; press firmly into an even layer.
Cover with plastic wrap and refrigerate at least 2 hours or overnight.
Use foil overhang to transfer bars to a cutting board.
Cut into 18 bars.
Bars will keep, covered, in the refrigerator for up to 2 weeks.
Yield: 18 (2 1/4×2-inch) bars.
Per serving: Calories: 190. Total fat: 10 grams. Saturated fat: 1.5 grams. Cholesterol: 0 milligrams. Sodium: 0 milligrams. Carbohydrates: 22 grams. Fiber: 3 grams. Sugars: 12 grams. Protein: 5 grams.