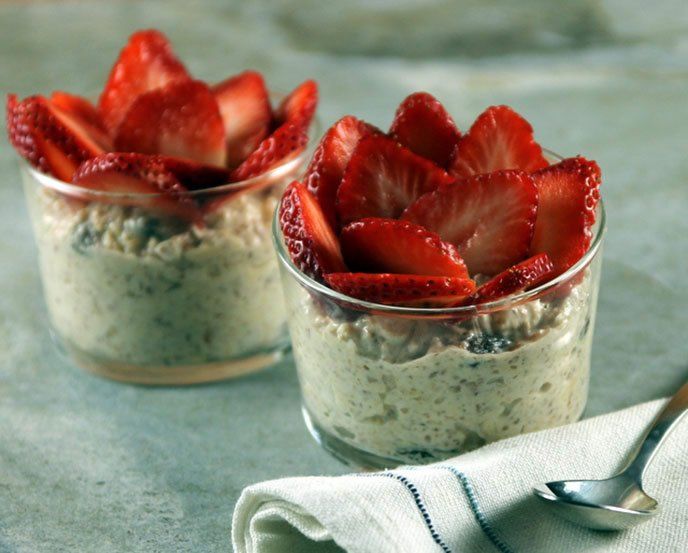 1/3

cup

Old-fashioned rolled oats

1/4

cup

slivered almonds

1/4

cup

raisins

2

tbsp

ground flaxseed

1

cup

Low-fat Plain yogurt

4

tsp

honey

1/2

tsp

vanilla extract

1

cup

fresh fruit of your choosing
An alternative to hot oatmeal (and commercial cold cereals with often-misleading health claims), muesli makes a refreshing, healthy summer breakfast.
– Place 1/3 cup old-fashioned rolled oats and 1/4 cup slivered almonds in microwave-safe medium bowl.
– Microwave at High 1 1/2 to 2 minutes, stirring once, or until lightly toasted and fragrant. Let cool.
– Add 1/4 cup raisins (or other dried fruit) and 2 Tbsp ground flaxseed; mix well.
– Add 1 cup low-fat plain yogurt, 4 tsp honey, 1/2 tsp vanilla extract and 1/8 tsp cinnamon; mix well.
– Cover and refrigerate at least 1 hour or for up to 4 days.
To serve, divide muesli among 4 individual bowls or jars. Top each serving with 1/4 cup fresh or frozen and thawed unsweetened fruit, such as strawberries, blueberries, peaches, or diced apple.
Yield: 4 servings (1/3 cup muesli and 1/4 cup fruit each).
Per serving: Calories: 190. Total fat: 7 grams. Saturated fat: 1 gram.
Cholesterol: 5 milligrams. Sodium: 45 milligrams. Carbohydrate: 30 grams. Fiber: 4 grams. Sugars: 20 grams. Protein: 7 grams. Calcium: 150 milligrams.