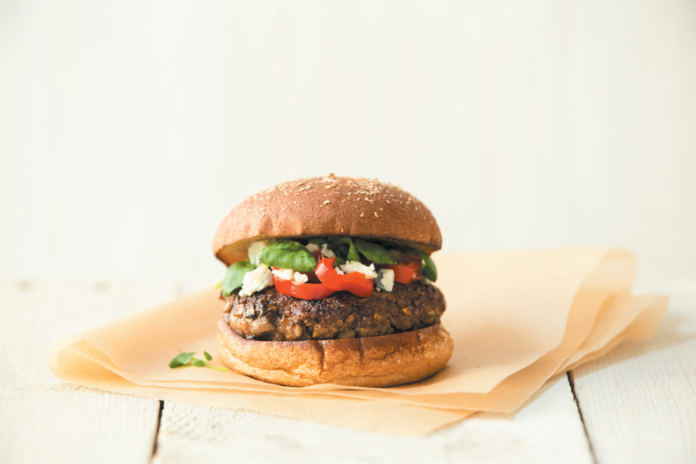 Ingredients:
½ lb any variety fresh mushrooms (caps and stems)
2 Tbsp olive oil, divided
1 lb 93% lean ground beef (or turkey)
½ tsp salt
4 whole wheat buns
Steps:
Finely dice mushrooms or gently pulse in a food processor, being careful not to purée.
In a skillet, warm 1 Tbsp olive oil on medium-high heat and add mushrooms, cooking 5 to 7 minutes or until golden brown.
Remove from heat and cool 5 minutes. Transfer cooled mushrooms to a medium bowl.
Add ground beef and salt to mushrooms, mixing until combined. Make 4 patties.
Add remaining olive oil to pan and cook burger patties on medium-high heat until internal temperature reaches at least 160°F. Put each patty on a bun. Add toppings as desired.
Yield: 4 servings
Per serving: Calories, 384; Total Fat, 10 g; Saturated Fat, 4 g; Total Carbohydrate, 25 g; Total Sugars, 4 g (Added Sugars, 3 g); Dietary Fiber, 4 g; Protein, 31 g; Sodium, 612 mg; Calcium, 116 mg; Potassium, 649 mg; Vitamin D, 11 IU; Iron, 4 mg.
(lb=pound; Tbsp=Tablespoon; tsp=teaspoon; g=gram(s); mg=milligrams; IU=International Units)
Adapted recipe and photo courtesy of: the American Mushroom Council, mushroomcouncil.com