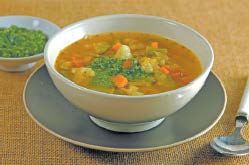 1

tbsp

extra-virgin olive oil

1

cup

medium onion (chopped)

2/3

cup

medium leek (white & pale green parts only)

1/2

cup

diced carrots

3

cloves

garlic (minced)

1/2

tsp

dried thyme leaves

1

can

(15 ounce) white beans

4

cup

low-sodium chicken broth or vegetable broth

1/8

tsp

salt or to taste

1

bay

leaf

4

ounce

green beans (stem ends trimmed, cut into one inch lengths)

1

cup

cauliflower florets (cut into 3/4 peices)

3/4

cup

whole-wheat medium pasta shells, elbow macaroni or broken spaghetti

1

cup

tomato fresh or canned (seeded and diced)

1

cup

sliced zucchini
September is prime time for the vegetable harvest. This hearty Mediterranean vegetable and bean soup is an ideal way to take advantage of overflow produce from your garden or a trip to the farmers market. It is also an easy and delicious way to incorporate the principles of the Mediterranean diet into your daily fare. This vegetable-rich soup recipe gets off to a flavorful start with a sofrito, a mixture of aromatic vegetables, garlic and herbs sauted in olive oil. Mashed beans give this soup body and a finishing swirl of fresh basil sauce brings it to life. If you dont want to bother making the Basil- Garlic Sauce, top each serving with a sprinkling of chopped fresh basil and grated Parmesan cheese.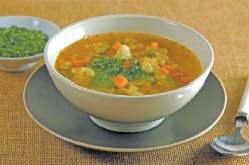 1. Heat the oil in a soup pot or Dutch oven overmedium heat. Add the onion, leek and carrots.Cook, stirring often, until softened and juststarting to brown, 8 to 12 minutes. Add garlicand thyme; cook, stirring, until fragrant, about30 seconds.
2. Meanwhile, place 3/4 cup of the beans in asmall bowl. Mash with a fork. Set mashed andwhole beans aside.
3. Add broth, salt and bay leaf to sofrito; bring to asimmer over medium-high heat.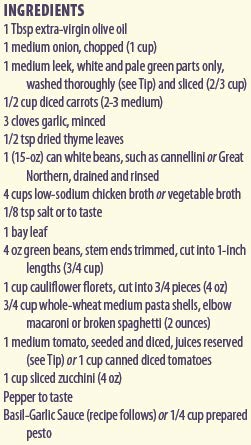 4. Add green beans, partially cover and cookover medium-high heat 5 minutes. Addcauliflower, pasta, tomato, reserved tomatojuices, and reserved whole and mashedbeans; partially cover and cook 5 minutes.Add zucchini, partially cover and cook untilpasta and vegetables are tender, 5 to 6minutes longer. Discard bay leaf. Seasonwith pepper. (The soup will keep, covered, inthe refrigerator for up to 2 days. Reheat onstovetop or in microwave, adding water to thinas necessary.)
5. While soup is simmering, prepare Basil-GarlicSauce, if using.
6. Ladle the soup into bowls and top each withabout 1/2 Tbsp Basil-Garlic Sauce.
YIELD: 8 (1-cup) servings.PER SERVING (with homemade Basil-GarlicSauce): Calories: 170. Total fat: 7 grams. Saturatedfat: 1.5 grams. Cholesterol: 0 milligrams. Sodium:270 milligrams. Carbohydrates: 21 grams: Fiber: 5grams. Protein: 8 grams.
BASIL-GARLIC SAUCE (Pistou): Place 2 cupswashed and dried fresh basil leaves, 2 crushedand peeled garlic cloves, and 1/8 tsp salt infood processor. Pulse until everything is finelychopped. With the motor running, gradually add2 Tbsp extra-virgin olive oil and 1 Tbsp water. Add1/4 cup grated Parmesan cheese and pulse untilblended. (Sauce will keep, with a piece of plasticwrap placed directly on surface to prevent discoloration,for up to 2 days.) Yield: 1/4 cup. 50 calories,4.5 grams total fat, 1 gram saturated fat and 100milligrams sodium per 1 1/2-tsp serving.
TIP: Leeks harbor a fair amount of grit in-betweenthe layers, so it is important to clean themthoroughly. Trim fuzzy root end and green stems.Use only the white and pale green portions. Witha sharp knife, make several incisions in the stemend of the leek to open it up like a fan. Soak leekin a large bowl of water several minutes, thenswish to dislodge dirt. Repeat until water runsclear and no trace of grit remains between layers.
TIP: To seed a tomato, cut it in half along theequator. Place a sieve over a small bowl. Holdingtomato half over sieve, squeeze very gently anduse your finger to remove seeds form cavities.Press on seeds in sieve to extract as much juiceas possible. Add the juice you collect to the soup. Discard seeds.