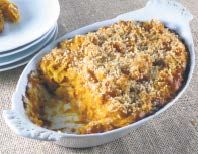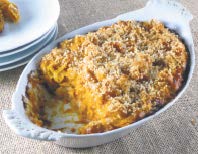 4 tsp canola oil or olive oil, divided
1 large Spanish onion, thinly sliced (2 cups)
1 (12-oz) package frozen cooked winter squash
1 1/4 cups low fat (1%) milk
1 1/2 cups shredded sharp chedder cheese
1 tsp powdered mustard
1/2 tsp salt
Pinch ground red pepper (cayenne)
Black pepper to taste
6 oz whole-grain pasta shells (2 cups) or elbow macaroni (1 2/3 cups)
1/3 cup Japanese-style bread crumbs (paniko)
1/8 tsp parika
In the chill of winter, comfort food is especially appealing. As an example of a meal makeover, here is an unconventional update of the comfort-food perennial favorite, macaroni and cheese. Instead of the usual cream sauce, this recipe uses an easy sauce made with frozen squash (an excellent source of beta carotene) and low-fat milk. Surprising? Yes, but it works! Whole grains boost fiber, while the delicious sweetness of caramelized onions complements the squash and cheese.
1. Preheat oven to 425 degrees. Coat an 8 x 8-inch or 11 1/2 by 7-inch baking dish with cooking spray. Bring a large potof water to a boil for cooking pasta.
2. Heat 2 tsp oil in large skillet over medium-high heat. Add onions, cover and cook, stirring occasionally, 10 minutes.Uncover and cook, stirring often, until onions are very tender and golden, 10 to 15 minutes.
3. Meanwhile, place squash and milk in large heavy saucepan. Cover and bring to a simmer over medium-high heat.Simmer, covered, stirring occasionally, until squash has thawed completely, 3 to 5 minutes. Remove from heat. Stirin mustard, salt, ground red pepper, and black pepper.
4. Drop pasta into boiling water and cook 2 minutes. Drain and refresh under cold running water. (Pasta will continueto cook while it bakes.)
5. Place pasta, squash mixture, onions and cheese in large bowl; mix well. Scrape into prepared baking dish. Mix breadcrumbs, paprika, and remaining 2 tsp oil in small bowl; sprinkle over pasta mixture. (Casserole can be preparedahead to this point. Cover and refrigerate for up to 2 days.) Bake, uncovered, until bubbly and top is golden, 35 to 50minutes, depending on whether or not casserole has been refrigerated.
YIELD: 6 (3/4-cup) servings.
PER SERVING: Calories: 320. Total fat: 13 grams. Saturated fat: 7 grams. Cholesterol: 35 milligrams. Sodium: 430 milligrams.Carbohydrates: 38 grams: Fiber: 4 grams. Protein: 15 grams. Calcium: 299 milligrams (30% DV). Vitamin A: 60% DV.