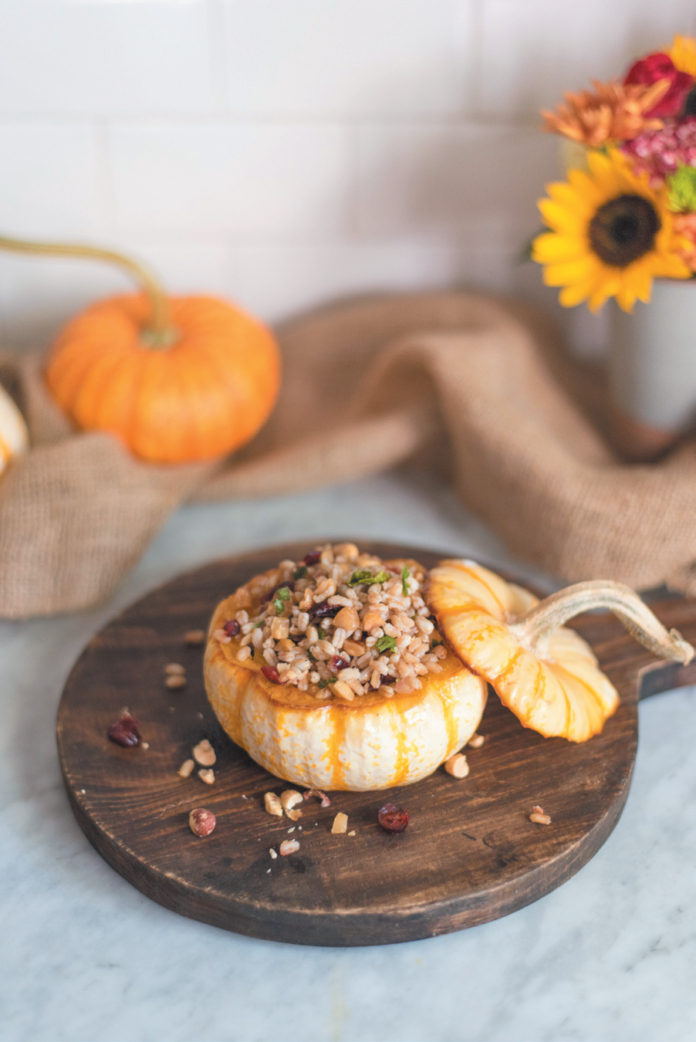 Ingredients:
8 mini pumpkins, or 4 small winter squash, such as acorn squash, halved
1 Tbsp olive oil
1½ cups farro, uncooked
¾ cup unsalted peanuts, chopped
½ cup fresh mint or parsley, chopped, or both (1/4 cup of each)
Zest of one lemon
Juice of one lemon
½ cup dried cranberries
Salt and pepper, optional
Steps:
Preheat oven to 400°F and bring a pot of water to a boil on the stove.
Cut tops off pumpkins or halve squash and scoop out seeds. Drizzle pumpkin or squash with olive oil, and a few shakes of salt and pepper, if using.
Bake for 20 minutes, until pumpkins soften.
In the meantime, cook the farro according to package instructions.
Once done, transfer to a bowl, add remaining ingredients, and mix well.
Fill each pumpkin with about ½ cup farro mixture.
Yield: 8 servings
Per serving: Calories: 230; Total Fat: 10 g; Saturated Fat: 0g; Total Carbohydrate: 27 g; Total Sugars: 1 g (Added, 0 g); Dietary Fiber: 4 g; Protein: 8 g; Sodium: 5 mg; Potassium: 1040 mg; Calcium: 108 mg; Vitamin D: 0 mcg; Iron: 4 mg.
(Tbsp=tablespoon; g=gram(s); mg=milligrams; mcg=micrograms)
Adapted recipe and photo courtesy of National Peanut Board, nationalpeanutboard.org