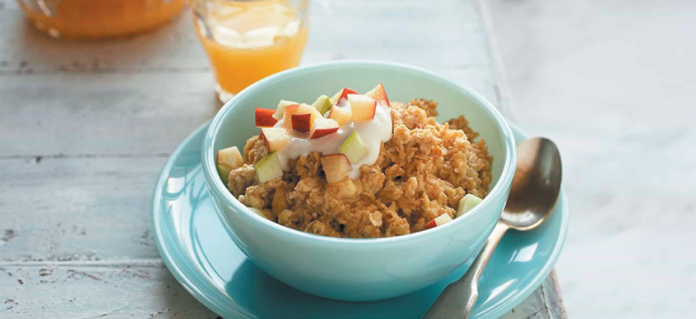 Ingredients:
1 egg (or 2 large egg whites or ¼ cup egg substitute)
1⁄3 cup milk
1⁄3 cup quick-cooking oats
½ cup finely chopped apple (divided)
¼ tsp ground cinnamon
pinch of salt (optional)
¼ cup nonfat Greek yogurt
Steps:
Beat egg and milk in 2-cup microwave-safe bowl until blended. Stir in oats, 1⁄4 cup of apple, cinnamon, and salt.
Microwave on high until liquid is absorbed and egg is set, 1½ to 2½ minutes.
Stir and top with yogurt and remaining ¼ cup of apple.
Yield: 1 serving
Per serving: Calories, 275; Total Fat, 7 g*; Saturated Fat, 2 g*; Total Carbohydrate, 34 g; Total Sugars, 13 g (Added, 0 g); Dietary Fiber, 4 g; Protein, 20 g; Sodium, 120 mg; Potassium, 445 mg; Calcium, 210 mg; Vitamin D, 2 mcg; Iron, 2 mg. *Analyzed using lowfat (1%) milk.
(tsp = teaspoon; g = grams; mg = milligrams; mcg = micrograms)
Photo courtesy of the American Egg Board, www.incredibleegg.org