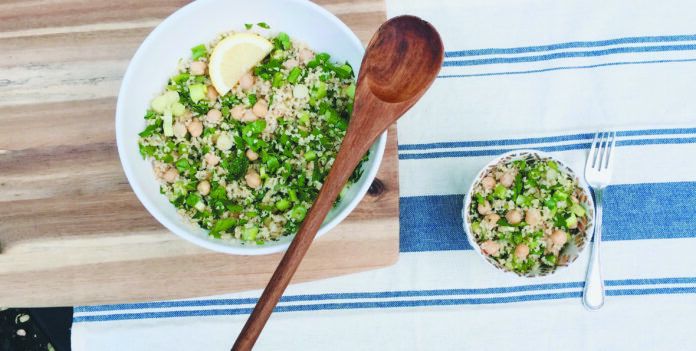 1 cup coarse bulgur
1 (15-oz) can chickpeas, drained and rinsed
2 Tbsp extra virgin olive oil
1 bunch scallions, finely chopped
2 large garlic cloves, minced
¼ cup finely chopped flat-leaf parsley, or a combination of parsley and dill
2 Tbsp finely chopped fresh mint
Juice of 1 lemon
Freshly ground black pepper, to taste
Steps:
Prepare bulgur according to package instructions.
Heat 1 tablespoon of the olive oil in a large, heavy skillet over medium heat. Add the scallions and cook, stirring, until tender, about 2 to 3 minutes.
Stir in the garlic and continue to cook until fragrant, 30 seconds to 1 minute, then remove from heat.
In a large bowl, combine the warm garlic and scallion mixture with the cooked bulgur and chickpeas.
Add the parsley, mint, lemon juice, and the remaining 1 tablespoon of oil and toss together.
Taste and adjust the salt and pepper. Serve hot or at room temperature.
Yield: 6 servings
Per serving: Calories: 201; Total Fat: 6 g; Saturated Fat: 1g; Total Carbohydrate: 29 g; Total Sugars: 2 g (Added, 0 g); Dietary Fiber: 6 g; Protein: 6 g; Sodium: 112 mg; Potassium: 219 mg; Calcium: 45 mg; Vitamin D: 0 mcg; Iron: 1 mg.
(oz = ounce; Tbsp=tablespoons; g=gram(s); mg=milligram(s); mcg=micrograms)
Recipe and photo courtesy of Oldways, www.oldwayspt.org.
.
.