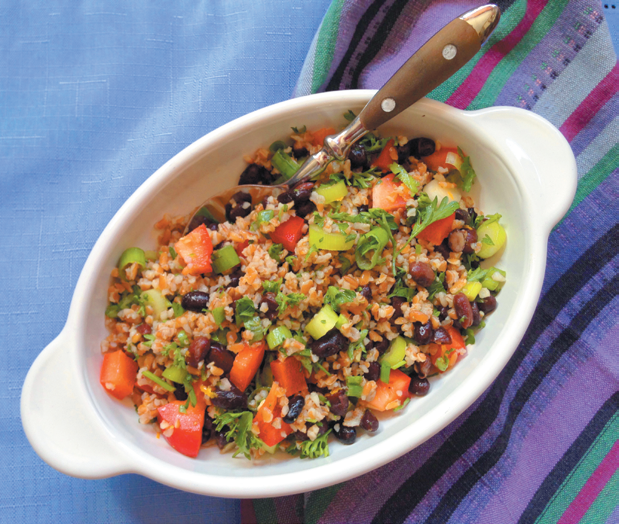 Ingredients
1 cup bulgur (or any other grain)
1 orange, zest and juice
2 tsp wine vinegar
2 Tbsp extra virgin olive oil
1 tsp cumin
1 (15 oz) can black (or other) beans, drained and rinsed
1 red bell pepper, chopped in small pieces (or any crunchy vegetable)
4 scallions, chopped in small pieces
4 Tbsp chopped fresh parsley
Steps:
Put bulgur and 2 cups water in a covered saucepan. Bring to a boil, then simmer 12 to 15 minutes until liquid is absorbed. (If using other grain, cook as directed.)
In a large bowl, zest the orange (a microplane cheese grater works well) and then juice it. Add vinegar, oil, and cumin. Mix thoroughly.
Add cooled cooked grains, black beans, and vegetables, and toss to cover everything with dressing.
Chill for at least an hour, as flavors meld and improve over time.
Yield: 4 servings
Per serving: Calories: 293; Total Fat: 8 g; Saturated Fat: 1 g; Total Carbohydrate: 55 g; Total Sugars: 2 g (Added, 0 g); Dietary Fiber: 15 g; Protein: 13 g; Sodium: 372 mg; Potassium: 511 mg; Calcium: 64 mg; Vitamin D: 0 mg; Iron: 4 mg.
(tsp = teaspoon(s); Tbsp = tablespoons; oz = ounces; g = grams; mg = milligrams)