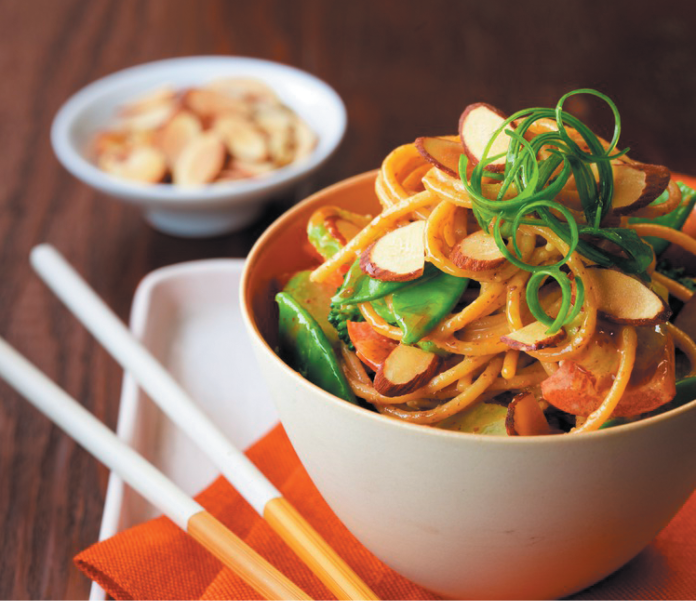 Ingredients
¾ lb whole-wheat spaghetti
½ head broccoli (about ¾ lb),
tops cut into florets, stems peeled and sliced thinly
2 cups (about 4 oz) snow peas, trimmed
1 red bell pepper, cut into 1-inch pieces
½ cup unsalted almond butter
¼ cup reduced sodium
soy sauce
3 Tbsp fresh lime juice
2 Tbsp brown sugar
1 Tbsp chili-garlic sauce, such as Sriracha (optional)
¼ cup sliced almonds, toasted
1 scallion, green part only (about 3 Tbsp)
STEPS
Bring a large pot of water to a boil. Cook the pasta according to the directions on the package.
Three minutes before the pasta is ready add the broccoli to the pasta pot. One minute before it is ready add the snow peas and red peppers to the pot.
While the pasta is cooking, make the sauce. Place the almond butter, soy sauce, lime juice, brown sugar, chili-garlic sauce and three tablespoons of boiling water (from the pasta pot) into a large bowl and whisk until smooth.
Drain the noodles and vegetables, return them to the pasta pot, add the sauce, and toss to coat. Serve garnished with the toasted almonds and scallion greens.
Yield: 6 Servings
Nutrients per serving: Calories: 410; Total Fat: 16 g; Saturated Fat: 1.5 g; Total Carbohydrate: 60g; Total Sugars: 4 g (added, 4 g); Dietary Fiber: 17 g; Protein: 9 g; Sodium: 460 mg; Potassium: 626 mg; Calcium: 135 mg; Vitamin D: 1 mcg; Iron: 1 mg.
(lb = pound; Tbsp = tablespoon; g = gram(s); mg = milligrams; mcg = micrograms.)
Recipe courtesy of California Almonds.