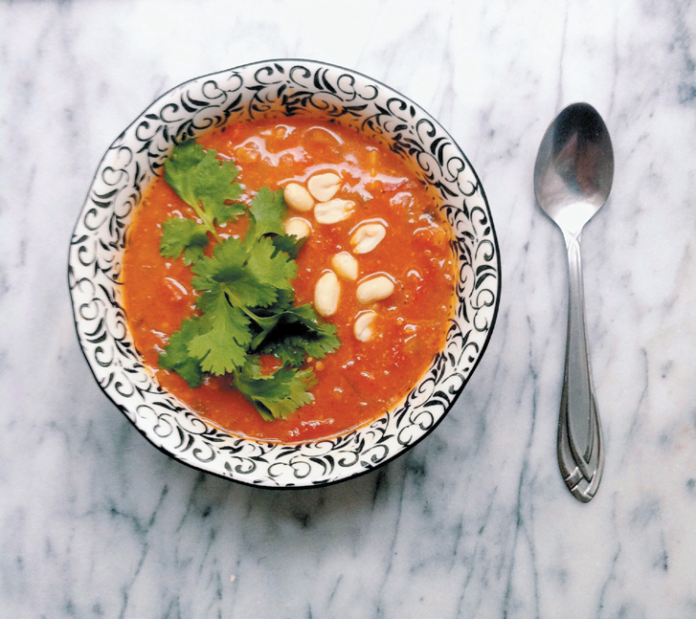 1

Tbsp

peanut oil

1

medium onion, chopped

2

celery ribs, chopped

1

medium carrot, chopped

1

Tbps

minced ginger

3

garlic cloves, minced

2

tsp

curry powder

3

cups

low sodium vegetable broth

1

cup

water

8

oz

sweet potatoes, cut into 1-inch pieces

1

(14.5-oz) can no salt added diced tomatoes

1/2

cup

creamy unsalted peanut butter

1

(15-oz) can low sodium great northern beans, drained and rinsed

1/3

cup

light coconut milk

1/2

tsp

salt
STEPS
Heat the oil in a Dutch oven over medium-high heat. Add the onion, celery, carrot, ginger, and garlic. Cook, stirring occasionally, until slightly softened, 4-5 minutes. Add the curry powder and cook, stirring, 30 seconds. Stir in the broth, water, potatoes, and diced tomatoes. Bring to a boil, reduce the heat to medium and simmer, uncovered, 20 minutes.
Whisk in the peanut butter until smooth. Add the beans, cover, return to a simmer and cook 15 minutes. Stir in the coconut milk, cover, and cook 2 minutes longer. Remove from the heat and stir in the salt. Let soup cool 10 minutes.

Transfer the soup to a blender in batches and puree. Return to the pot and warm over medium heat.
Yield: 6 servings
Nutrients per serving: Calories: 325; Total Fat: 15 g; Saturated Fat: 3.5 g; Total Carbohydrate: 38.5 g; Total Sugars: 2 g (Added, 0 g); Dietary Fiber: 9 g; Protein: 14 g; Sodium: 321 mg; Potassium: 927 mg; Calcium: 134 mg; Vitamin D: 0 mcg; Iron: 4 mg.
(Tbsp = tablespoon; tsp = teaspoon; oz = ounce; g = grams; mg = milligrams; mcg = micrograms)
Recipe and photo: Oldways, www.OldwaysPT.org