After several years of limiting our travel, many of us are getting back out on the road (or the rails, or the sky) this summer. If you've been working to make healthy dietary choices, rest assured it is possible to enjoy your vacation and still maintain those healthy habits!
On the Road. Road trips can turn into days of fast food, diners, and rest stops punctuated by car snacks of chips, candy, and other less than optimal choices. But they don't have to! "A very good option is to find a supermarket instead of a fast-food restaurant or roadside diner," says Alice H. Lichtenstein, DSc, a nutrition professor at the Friedman School and executive editor of this newsletter. "You're likely to find lots of good options to purchase and either consume nearby or take to your next destination. Plan for a picnic if it's near a mealtime or have a stash of nuts and dried fruit in the car, along with fresh fruits and veggies. Apples and baby carrots are the least likely to get bruised or squashed. Single wrapped cheese sticks are also good choices, as they can be left unrefrigerated for a day or two without spoiling." Another option is to have some whole grain crackers to pair with the cheese, nut or seed butters, and hard-boiled eggs. Don't forget refillable water bottles.
If rest stops and convenience stores are your only option, you can generally find some healthy options tucked in with the candy and chips. Compare labels to get the highest unsaturated fat, highest fiber, and lowest salt versions you can find. When choosing snack bars, make sure the main ingredients are whole grains, nuts, or dried fruits rather than refined grains and sugar. As a simple rule, check labels to find products with at least one gram (g) of fiber for every 10 g of carbohydrate (10:1 ratio).
Most fast-food restaurants now offer salad options and grilled chicken sandwiches. Skip the fries and sodas. Many of these restaurants also have apple slices or bags of baby carrots. At the fried chicken drive through, you can go for baked beans, coleslaw, and perhaps corn—hold the fried chicken. Take advantage of the newer fast-casual restaurants that provide a wide range of choices from which to build your own salad or bowl.
TAKE CHARGE!
Try these tips for keeping up good dietary habits while traveling: Enjoy! Food is one of the great joys of travel. Sample local delicacies in moderation.
Bring Your Own. If you think food options will be limited, bring your own healthy options, like fresh and dried fruit, nuts, cheese sticks, and nut butters.
Manage the Buffet. Look over all the options and narrow down your choices. Don't try to sample every offering. Share a special dessert or two with friends or family members.
Eat Like the (Healthy) Locals. While you can now eat like an American almost anywhere in the world, try new things and look for traditional dishes that make good use of healthy choices like legumes, fruits, vegetables, fermented foods, and fresh seafood.
In the Air. Have a good meal before heading to the airport. If you're unexpectedly stuck, it's usually not hard to find yogurt, fruit, nuts, dried fruit, and good salad and wrap options. Pack a reusable water bottle and fill it after passing through security. It will come in handy at the other end of your flight as well (unless you're told to avoid the local water).
If offered a choice of meals on a long plane trip, pick a vegetarian or poultry offering. Be sure to partake in the fruits, salad, and/or side veggies and set the white bread and dessert aside. "Don't get too concerned about food on planes," says Lichtenstein. "It usually does not comprise the majority of the food you will consume away from home."
Cruising. The round-the-clock all-you-can-eat nature of cruises creates a particular challenge for those looking to not stray too far from their goals. For buffet meals, look over all the options before you start to fill your plate. That way, you can choose the foods you will most enjoy that meet your nutrition goals. Instead of being tempted to sample everything at one sitting, try something new each day.
If buffets are your downfall, many ships will serve you in a dining room instead. The fixed and plated portions can help you avoid going overboard, but don't order every course available. Look for lighter fare, often marked as "spa" or "lite" choices on menus, and don't hesitate to ask for half-portions or appetizer-sized entrees.
Aim to limit refined grains and starches. Make these the sides, rather than the main part of the plate. "For desserts, there can be plenty of healthier, tasty options," says Dariush Mozaffarian, MD, DrPH, dean of the Friedman School and editor-in-chief of this newsletter. "Look for things that are fruit-, cocoa-, yogurt-, or milk based. These are generally healthier than highly grain-based desserts." Go for small portions and share with cruise-mates to sample multiple things without over-indulging. If you drink, go light on alcohol (no more than one drink per day).
By following these steps, you can enjoy eating—and get your money's worth—while avoiding the bloated feeling, heartburn, and guilt that take away from the enjoyment of your trip.
At Your Destination. "Regardless of where in the world you are, you can generally find the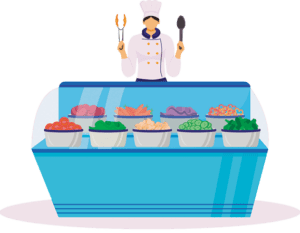 chain food outlets you are familiar with at home," says Lichtenstein. "Avoid these and try something new."
Hotels: Search online before you travel or talk to the staff when you arrive for local restaurant options, and for the nearest grocery store if you have a mini-fridge or kitchenette and don't want to eat all your meals out.
All Inclusive Resorts: "All-inclusive" usually includes "all you can eat, all day long." Follow the advice in the Cruising section.

International Travel: While it is certainly possible to eat a typical American diet abroad these days, many cultures' traditional diets are often healthier than the typical U.S. diet. Coastal areas and islands may offer fresh seafood. Bean and lentil dishes are part of traditional cuisines in many countries. If you look, you may even get to sample foods you've never seen before (like soursop/guanabana fruit and calabaza pumpkin in the Caribbean, amaranth grain and leaves in Africa, and various seaweeds in Asian countries).
Wherever you go—enjoy! Sampling local delicacies is one of the joys of travel. If the "must try" food is not the healthiest choice…try it anyway. "As long as you remain aware of portion size and frequency, you can enjoy local specialties to the fullest without feeling guilty," says Lichtenstein.