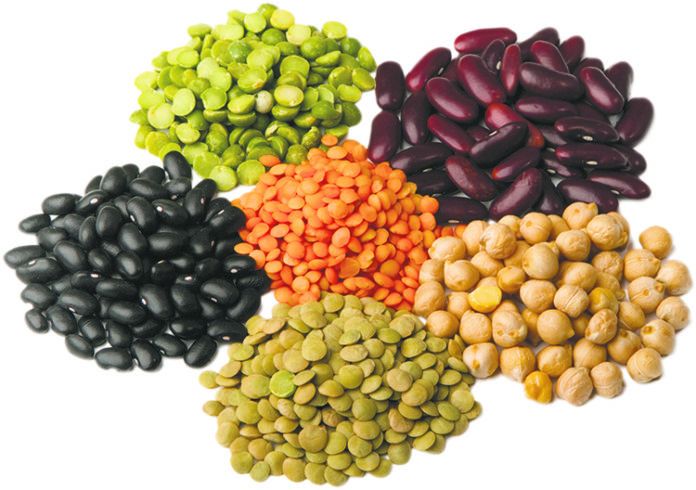 Previous research has shown that le-gumes-beans, peas and lentils-can help fight heart disease by improving cholesterol. Now, a new study suggests that legumes could also lower cardiovascular risk by reducing blood pressure, along with improving glycemic control. That latter finding could be important to those with diabetes or at risk for the condition, as well as in combating the cluster of symptoms labeled metabolic syndrome.
Susan B. Roberts, PhD, director of Tufts HNRCA Energy Metabolism Laboratory, has touted the benefits of beans and other legumes in her book, The "I" Diet www.myidiet.com. "If you dont like beans, you probably havent tried a variety of good beans," she says. "Canned cooked beans are found in almost all supermarkets and can be made into a wide variety of delicious meals. Cannelini, black, pinto and chickpeas (garbanzo beans) are good choic-es. Dried beans that you soak and cook take more time but taste really good and cost less."
LEGUMES VS. WHOLE WHEAT: In the lat-est study, David J.A. Jenkins, MD, PhD, DSc, of the University of Toronto, and colleagues randomly assigned 121 partici-pants with type-2 diabetes to either a diet that encouraged them to increase legume intake by at least a cup per day, or to a diet boosting insoluble fiber by consumption of whole-wheat products. The legume diet was designed to score low on the glycemic index (GI), a measure of how quickly a food increases blood sugar. In general, legumes have a lower GI value than refined and finely ground cereals and starches.
After three months, the low-GI, high-legume diet was associated with better glycemic control and greater reduction in the estimated risk of heart disease, primar-ily by improving blood pressure. Al-though the changes were relatively small, Dr. Jenkins and colleagues noted in Archives of Internal Medicine, "given the magnitude of the [health] problems and the need for acceptable dietary options," the findings supported increased legume consumption.
Although the study focused on diabetic patients, Dr. Jenkins adds that the results are also relevant to those without diabetes.
"We believe that beans, peas and lentils reduce risk of heart disease through lowering blood cholesterol in both diabetic and non-diabetic individuals," he says. "What we also found was that these foods lowered blood glucose and blood pressure. This latter finding is of great relevance to coronary heart dis-ease risk reduction in the non-diabetic but has never been shown before in diabetes."
BOOSTING YOUR BEANS: Current US dietary recommendations call for adults to consume one to two cups of beans and peas per week, so boosting intake by one cup per day might be a lot for many people. (Note, though, that beans and peas uniquely count both in the vegetables and the protein group of the USDAs MyPlate.) Dr. Jenkins says there is a relative lack of data on how effec-tive lower amounts would be; however, "certainly some people may do well on a half-cup of beans."
If youre taking advantage of the convenience of canned beans, remem-ber to drain and rinse them to reduce their sodium content. When cooking dried beans from scratch, make extra and freeze them, covered with their cooking liquid; frozen beans will keep for two to three months in an airtight container.