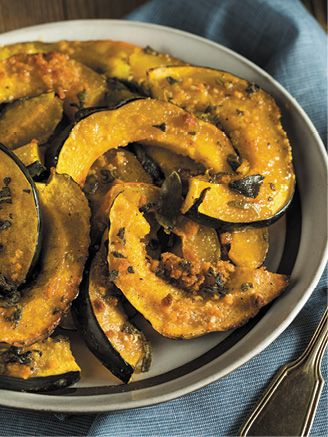 2

medium

medium acorn squash

2

tablespoons

extra virgin olive oil

1/4

cup

balsamic vinegar, divided

1/2

cup

walnuts (or other nuts), chopped

2

tablespoons

fresh thyme

Salt and pepper, freshly ground to taste
Steps:
Preheat oven to 400°F. Cut acorn squash in half (cutting through the stem end) and scrape out seeds.* Cut each half into ¾-inch thick slices and place in a large bowl. Toss with the olive oil and half the vinegar; spread in a single layer on a large baking sheet.
Bake for 20 minutes; sprinkle with walnuts and thyme and cook for 5 minutes more or until squash is tender.
Drizzle with remaining vinegar and season to taste with salt and pepper.
*To soften the skin and make the squash easier to cut, microwave the whole squash on high for 1 to 3 minutes, checking halfway through for signs of softening.
Yield: 8 servings Per serving: Calories: 130; Total Fat: 8 g; Saturated Fat: 0 g; Total Carbohydrate: 16 g; Total Sugars: 0 g (Added, 0 g); Dietary Fiber: 2 g; Protein: 2 g; Sodium: 5 mg; Potassium: 426 mg; Calcium: 54 mg; Vitamin D: 0 mcg; Iron: 2 mg. (lbs = pounds; Tbsp = tablespoon; g = grams; mg = milligram(s); mcg = micrograms.) Recipe adapted courtesy California Walnuts, walnuts.org