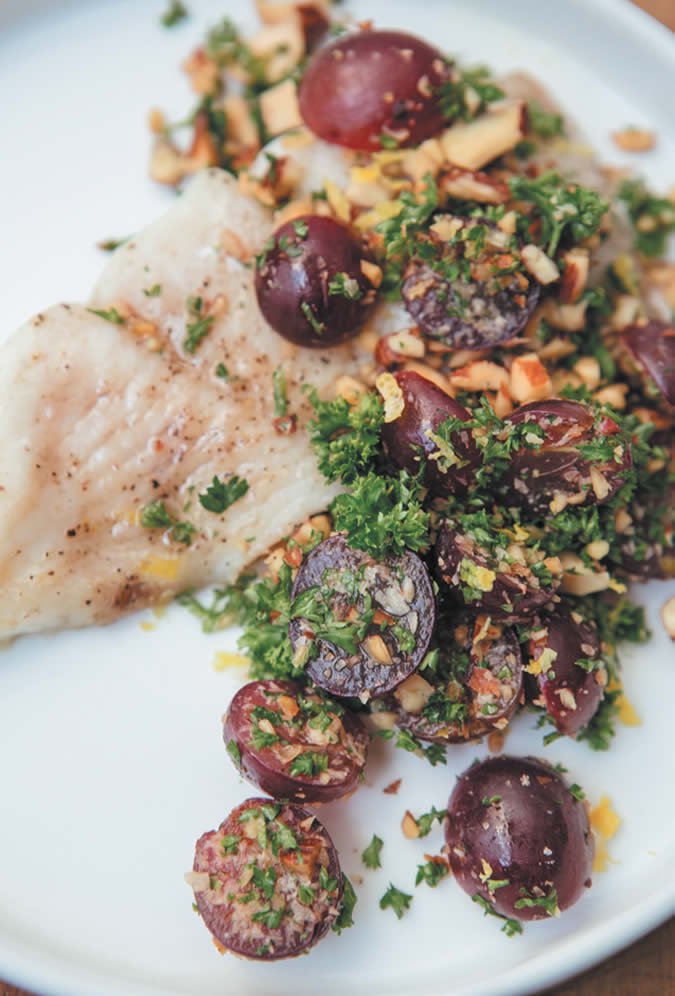 1

pound

flounder fillet

1

tbsp

extra-virgin olive oil (divided)

1/4

tsp

salt (divided)

0

Freshly ground black pepper to taste

1

cup

halved red grapes

1

cup

chopped and toasted almonds

2

tbsp

finely chopped parsley

1

tbsp

lemon juice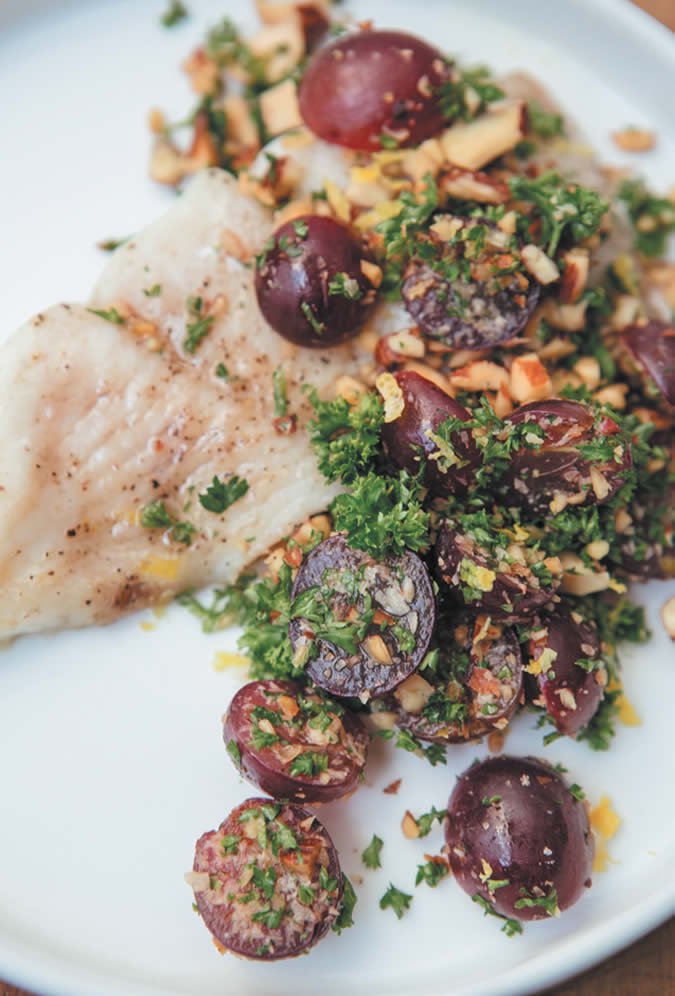 Quick, easy, and elegant, this dish pairs perfectly with a whole grain side.
STEPS
1. Preheat oven to 375F. Place fish on a sheet tray and season with 1 teaspoons of olive oil, 1/8 teaspoon of salt, and freshly ground black pepper.
2. In a bowl, combine the grapes, almonds, parsley, lemon juice, 1 teaspoons of olive oil, 1/8 teaspoon of salt, and black pepper.
3. Place the fish in the oven and bake for 3 minutes, flip the fish, and return to the oven until the fish is just beginning to flake but the center is still translucent, approximately 3 minutes. Take care not to overcook.
4. Remove from oven and serve immediately, topped with grape mixture.
Yield: 4 servings
Nutrients per serving: Calories: 298; Total Fat: 17 g; Saturated fat: 2 g; Carbohydrate: 13 g; Total; Dietary Fiber: 3 g; Sugars: 7 g (Added sugars: 0 g); Protein: 27 g; Sodium: 239 mg; Potassium: 504 mg; Calcium: 90 mg; Vitamin D: 4 mcg; Iron: 1.5 mg; Total Omega-3 FA: 300 mg
(lb = pound; Tbsp = tablespoon; tsp = teaspoon; g = grams; mg = milligrams; mcg = micrograms)
Recipe courtesy of The Pescetarian Plan by Janis Jibrin, recipes by Sidra Forman (Ballantine Books, 2014).