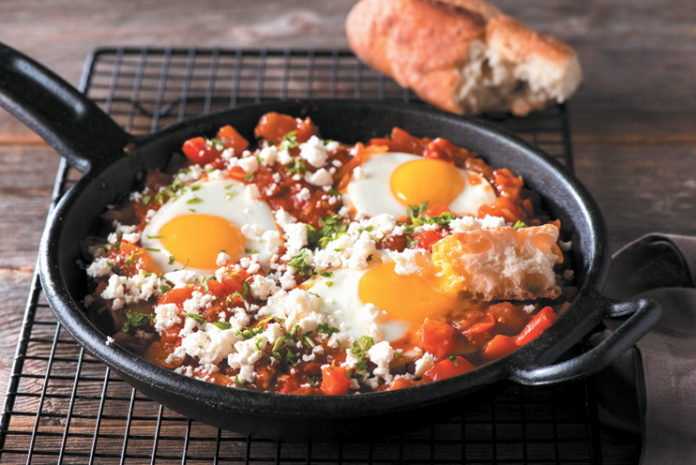 3

Tbsp

olive oil

1

onion, chopped

1

red pepper, chopped

2

cloves garlic, minced

1

tsp

chili powder

1

tsp

ground cumin

1

tsp

paprika

½

tsp

salt

¼

tsp

pepper

¼

tsp

cayenne pepper

3

Tbsp

tomato paste

5

cups

plum tomatoes, chopped

8

eggs, large

1/3

cup

finely crumbled feta cheese

¼

cup

fresh cilantro, chopped
STEPS
Preheat oven to 400°F. Heat oil in ovenproof skillet set over medium heat. Cook onion, red pepper, garlic, chili powder, cumin, paprika, salt, pepper, and cayenne for about 5 minutes or until vegetables start to soften.

Stir in tomato paste; cook for 1 minute. Stir in tomatoes; bring to simmer. Reduce heat to medium-low. Cook, stirring occasionally, for about 15 minutes or until sauce has thickened.

Make 8 divots in the sauce with a spoon; crack an egg into each divot. Transfer to oven. Cook for 5 to 8 minutes or until eggs are soft-cooked or until desired doneness. Garnish with feta cheese and cilantro.
Yield: 8 servings
Nutrients per serving: Calories: 172; Total Fat: 11 g; Saturated Fat: 3 g; Total Carbohydrate: 9 g; Total Sugars: 4 g (Added, 0 g); Dietary Fiber: 3 g; Protein: 9 g; Sodium: 311 mg; Potassium: 421 mg; Calcium: 70 mg; Vitamin D: 1 mcg; Iron: 1 mg.
(Tbsp = tablespoon; tsp = teaspoon; g = gram(s); mg = milligrams; mcg = micrograms)
Recipe courtesy of The Incredible Egg, IncredibleEgg.org