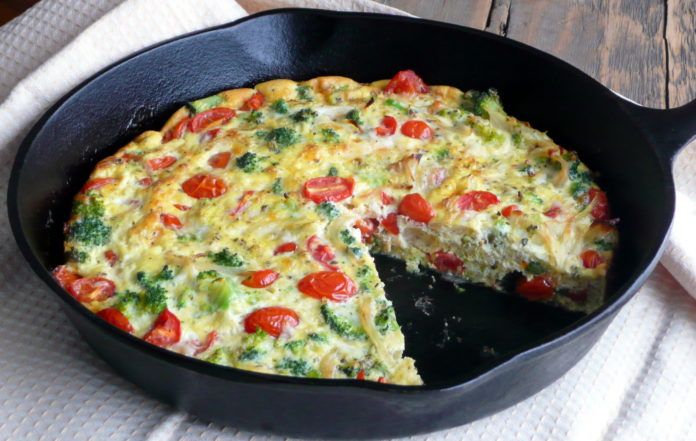 4

tsp

olive oil, divided

1

medium

onion, thinly sliced

3

cups

broccoli florets

6

large

eggs

4

large

egg whites

1

tsp

hot sauce

1/2

tsp

salt

2

cup

grape tomatoes or cherry tomatoes

1

cup

shredded mozzarella cheese

1 1/2

tbsp

fresh oregano
This easy baked frittata (a flat Italian omelet), featuring the synergistic combination of broccoli and tomatoes, is perfect for spring brunches and simple suppers. Even if you are cooking for just one or two, it is worth making because leftovers are delicious reheated in the microwave-enjoy them for a ready-made, protein-rich breakfast the following day. A mixture of whole eggs and egg whites helps keep the saturated fat in check. It can be disheartening to discard the extra egg yolks. To eliminate waste, use liquid egg whites, available the refrigerated egg case in supermarkets.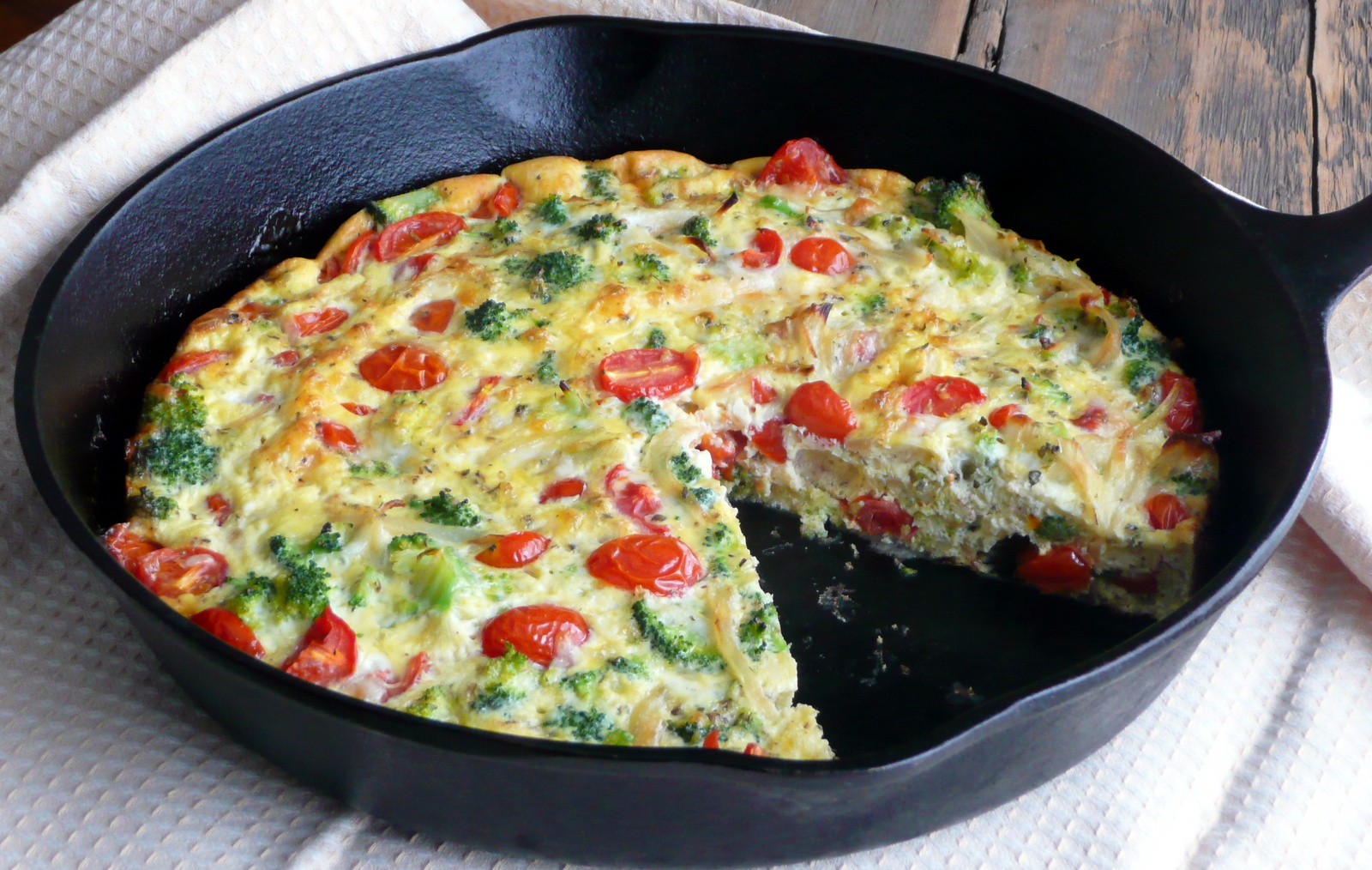 Preheat oven to 425F. Heat 2 tsp oil in 12-inch skillet with oven-proof handle over medium-low heat. Add onion; cook stirring often, until softened and lightly browned, 3 to 5 minutes. Transfer to a plate. Wash and dry skillet.
Steam broccoli until crisp-tender, 3 to 4 minutes. Refresh under cold running water to stop it from cooking. Drain well and pat dry.
Blend eggs, egg whites, hot sauce, salt and pepper with a fork in large bowl. Add tomatoes, cheese, oregano, sauted onion, and steamed broccoli; mix well.
If your skillet is notnonstick, coat it with cooking spray (not necessary, if using nonstick skillet). Add remaining 2 teaspoons oil to skillet and heat over medium-low heat. Swirl to coat bottom evenly. Add egg mixture. Immediately transfer skillet to oven. Bake, uncovered, until top is lightly browned and set, 25 to 30 minutes.
There are several ways to serve this frittata: The simplest is to leave the frittata in the skillet and cut wedges from the skillet. To unmold the frittata, run a spatula around sides and lift frittata to make sure it has not stuck to skillet. If your skillet has sloping sides, carefully slide frittata onto serving platter. If you skillet has straight sides, invert serving platter over skillet. Grasping platter and skillet with oven mitts, carefully invert skillet. Lift off skillet to release frittata. Cut into wedges and serve.
Yield: 8 servings.
Per serving: Calories: 150. Total fat: 9 grams. Saturated fat: 3 grams. Cholesterol: 166 milligrams. Sodium: 314 milligrams. Carbohydrates: 6 grams: Fiber: 2 grams. Protein: 12 grams. One serving provides almost 1 servings of vegetables!